Panasonic Lumix DMC-GX8 Review: Top-ranking Four-Thirds sensor
By Paul Carroll -
Friday October 16 2015
Sensor Review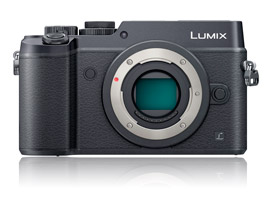 Launched in July 2015, the $1,198 GX8 is Panasonic's latest Micro-Four-Thirds mirrorless hybrid camera. Announced as an update to its predecessor, the GX7, the GX8 becomes the highest-resolution Micro-Four-Thirds offering in the Panasonic lineup, featuring a 20Mp Live MOS sensor.
Along with high-resolution 20Mp (5184 x 3888 pixel) stills, the new sensor can also capture 4K video at 24/25p or full HD movies at 50/25p. Another first for the GX8 is the inclusion of a new Dual I.S (Image Stabilization) system, with mechanisms built into both the camera and the lens to enhance performance. Thanks to its new Dual I.S. system, Panasonic claims up to 3.5 stops of "anti-shake" on the GX8 when using wide-angle focal lengths.
The GX8's weather-sealed construction offers splash- and dust-proof construction to handle difficult shooting environments, and boasts a wide ISO 100 to 25600 sensitivity range, as well as 8fps burst shooting. Featuring a built-in pop-up flash, electronic viewfinder, free-angle LCD, hotshoe for external flash, and compatibility with a wide range of Micro-Four Third-lenses, the new GX8 looks like an enticing all-in-one shooting proposition for the hybrid enthusiast. Let's see how its sensor scores compare in our benchmark image quality lab tests.
Key features & specifications
20.3Mp (5184 x 3888 px) Four-Thirds Live MOS sensor
4K video @ 24/25p and HD video @ 50/25p
Dual Image Stabilization
3.0-inch 1040k dot free-angle LCD
Contrast Detect AF system
OLED EVF
8fps burst shooting
Built-in flash
Wi-Fi & NFC connectivity
Further readings for the Panasonic Lumix DMC-GX8 Review: Top-ranking Four-Thirds sensor
To provide photographers with a broader perspective about mobiles, lenses and cameras, here are links to articles, reviews, and analyses of photographic equipment produced by DxOMark, renown websites, magazines or blogs.
---
---
Comments
DXO fails to make meaningful comparisons

I find it interesting how DXO totally fails in their "Panasonic Lumix DMC-GX8 side by side comparisons".

"Panasonic Lumix DMC-GX8 versus predecessor": for reasons of shape and size and lineage, this should clearly compare the GX8 to the GX7, but DXO falsely picks the GH3 as "predecessor" which it is not.

"Panasonic Lumix DMC-GX8 versus Sony model": Well, yes, the Sony SLT Alpha 77 II is "a" Sony model, but it's a Sony DSLR for all intents and purposes, which doesn't really make any sense to compare to a diminutive mirrorless compact.

"Panasonic Lumix DMC-GX8 versus Olympus model": Again, the corresponding Olympus model would be a PEN, not the SLR-styled OM-D.

The whole mess reminds me of automatic translations: nonsensical machine-generated content that no intelligent being would ever produce.



Reply
---
NX500 is not the same at all

By DxO standards it is. But anyone who has a look at the specs will note the NX500 lacks IBIS, it lacks 4K that is comparable to the GX8, it lacks weahtersealing and most of all and most importantly it lacks am EVF whereas the GX8 has some of the best EVFs out there. The Samsung is in essence a very basic camera with an excellent sensor. That does not mean we can somehow compare it to better spec'd cam in the sense that all the other features matter little. They matter a lot to most.


Reply | Read all replies for this comment
First replies for this comment
---
Added by

BarnET

| October 18 , 2015

It ships with a clip on flash

Karl,

It comes with the same flash as the LX100 in the box. It's a small clip on flash with a GN of 7. It uses the camera for power and can not be bounced like the internal flash of the Gx7. Not that it had enough power to bounce but still.


Reply
---
Correction: The GX8 does not have a built in flash.

Correction: The GX8 does not have a built in flash, nor does it come with an external flash. The large viewfinder + control layout left no room for a pop up flash. Out of the box, the GX8 is flashless. (It does, of course, have a hot shoe.)


Reply
---
First replies for this comment
---