Panasonic Lumix DMC-LX100 sensor review: Potent point-and-shoot
By Kevin Carter -
Thursday November 27 2014
Sensor Review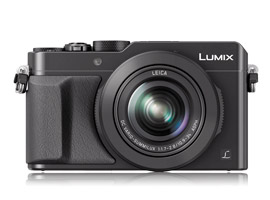 Panasonic's latest iteration of the LX series premium compact eschews the usual 1/1.7-inch sensor for the larger Micro-Four-Thirds type found the firm's mirrorless models. It also has a Leica 24-75mm f1.7-2.8 zoom, a traditional rangefinder style top plate with EVF, a hot shoe, and manual mechanical controls. Read on to see how well this intriguing new model performs.
Specification and Features
Panasonic's range of LX-series compacts have long garnered praise for their build and image quality, but interest in premium compacts has shifted to models featuring larger sensors. So the introduction of the LX100 featuring a Micro-Four-Thirds sensor usually found in the firm's mirrorless models is somewhat unexpected.
While slightly larger than previous LX models, it remains compact and features a collapsible Leica 24-75mm equivalent f1.7-2.8 zoom and a built-in 2,764k-dot EVF, which, curiously, the firm says covers the gamut of Adobe RGB. In addition to the sloping rangefinder top-plate, it has manual mechanical controls, and a hot shoe but no built-in flash (although an external flash is bundled). The sensor is the same 16-Mpix unit as that found on the firm's mirrorless cameras, but like previous LX models, this camera has multi-aspect ratios to maintain the angle of view. It means the pixel count never exceeds 12.7-Mpix, but it allows a smaller than expected lens.
Other features include a fixed 3.0" 921k-dot LCD (unfortunately not touch-sensitive like other Lumix bodies), continuous shooting of up to 11 fps at full resolution, sensitivity up to ISO 25,600, and WiFi with NFC for remote operation. Not unexpectedly, the LX100 has a wide range of video features, including 4K UHD (3840 x 2160) at 30/24fps in MP4 (but only up to 15 minutes in duration), plus Full HD at 60fps, in AVCHD and MP4, stereo audio, and focus peaking.
Although not exactly pocket-sized, it's still reassuringly small, measuring just 4.5 x 2.6 x 2.2" / 114.8 x 66.2 x 55.0 mm and weighing 13.86 oz / 393 g with battery and SD card. It is available to pre-order at $899 in black or chrome finish.
Key specifications 
12.7-Mpix effective Micro-Four-Thirds Multi-Aspect MOS sensor
Leica DC –Vario Summilux 24-75mm equiv. f1.7-2.8 zoom
Light Speed AF using Depth from Defocus AF tech'.
3.0" 921k-dot LCD and 2,764k-dot EVF
4K (UHD) video at 30/24 fps in MP4
Full HD video at 60fps MP4/AVCHD
Built-in Wi-Fi connectivity with NFC
Further readings for the Panasonic Lumix DMC-LX100 sensor review: Potent point-and-shoot
To provide photographers with a broader perspective about mobiles, lenses and cameras, here are links to articles, reviews, and analyses of photographic equipment produced by DxOMark, renown websites, magazines or blogs.
---
Comments
sensor ratings

Does anyone have an idea as to how DXO sensor scores could be compared WITHOUT the low light ratings? I am impressed by how similar many cameras of different sensor sizes are at lowest ISO. Obviously a larger sensor means less noise at high ISO's but I am less interested in that.


Reply
---
67 score for both sony rx-iii and lx100

It has better ISO result, better DR and just 0.1 less color depth.
Come on Dxo .. considering these values it should have couple of points more?


Reply
---
Lower ISO was expected

As its the same sensor as GX7 or GM1/5 sensor characterstics were supposed to be similar. The odd of lower ISO was expected as its taking the 12MP out of 16MP sensor thus losing quarter of sensor size. When you downsize it to 8MP as Dxo like to do you will get it lower number compare to GX7 where the whole sensor is used.


Reply
---
Lens?

If the lens in not interchangeable then a review that doesn't include information on the lens is just self-serving blather.

"Oooh, look at us. We can rate the sensor. Too bad for you that the lens is garbage (or not) so you have no idea if the camera as a whole is worth buying...Ha ha, made you look! Buy our software. We are experts, you know."

Consider this a formal protest to your *expletive* policy or whatever it is,


Reply | Read all replies for this comment
First replies for this comment
---
Re: Lens?

Some consideration of the lens on a fixed lens compact is necessary but isn't this normally the realm of sites like DPreview that use DxO's data?
The base ISO SNR is more interesting than the point at which it drops below 30dB for a fixed lens camera. For two compacts where one has a low light ISO of 600 and one of 400, if the lower performing camera has a one stop faster lens then it will make a better low-light camera (600 vs 400x2).


Reply
---
Re: Lens?

Don't worry buddy .. as Pany/Leica traditions are, you wont get wrong with this lens.

P.s. Dxo will probably rate the lens, bit later .. they normally don't do it with camera bodies


Reply
---