Panasonic Lumix DMC-LX7 review - Expert Compact: Panasonic is back in competition
By Kevin Carter -
Monday February 18 2013
Sensor Review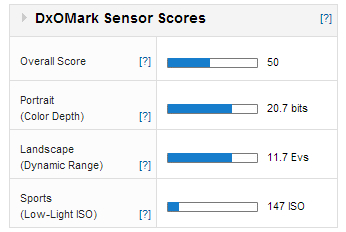 The predecessor of the LX7, the CCD-equipped version, the LX5, achieved a DxOMark score of 41 and is currently ranked 178th globally in our database. So the DxOMark Score of 50 for the new LX7 indicates some improvements in sensor capability. Overall with a DxOMark Score of 50 the LX7 means it is ranked 173rd against cameras of all formats, and comes 9th out of the compacts tested (at the time of writing).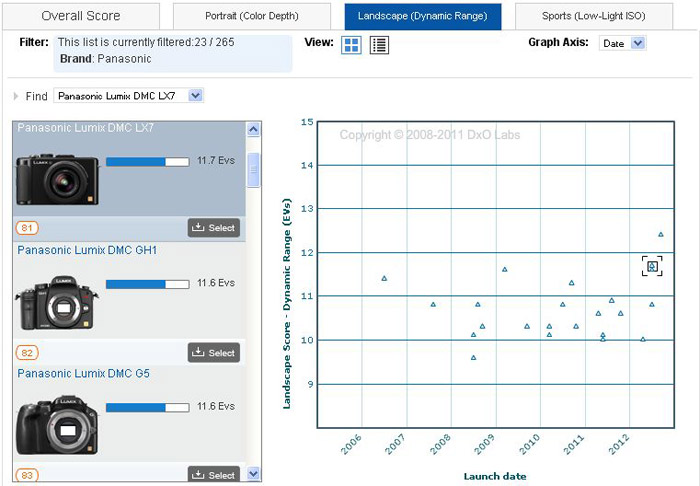 The DMC-LX7 has surprisingly good Dynamic Range (11.7 Evs), the best we've seen from Panasonic and even surpasses the firm's cameras using 4:3 sensors.
Of those smaller sensor compact cameras, it ranks 7th in our Portrait use case test with a Color Depth of 20.7 bits (up from 19.6 bits for the LX5). While on the low-side (22 bits is considered excellent), this is a good score and plenty sufficient to provide nuanced color discrimination at base ISO.
Panasonic hasn't fared well in Dynamic range measurements previously, however, in the Landscape test, the LX7 scores highly with a very impressive Dynamic Range of 11.7 Evs (at base ISO). This is higher the firm's larger size 4:3 sensor in the Lumix G-series cameras, though this wouldn't be noticeable in real world use. Nevertheless, this is almost 1Ev extra exposure range over the LX5 and places the LX7 5th in Dynamic range out of the compacts in our database.
Up to now the new sensor has performed admirably but the LX7 falls down in the low-light category coming 23rd in the compact camera category (and 191 overall in our Low Light scores). The Low-light ISO score (just 147 ISO) is a bit low when compared with its main rivals but the result actually shows an improvement over its predecessor when set at high ISO (ISO1600 and above).
Further readings for the Panasonic Lumix DMC-LX7 review - Expert Compact: Panasonic is back in competition
To provide photographers with a broader perspective about mobiles, lenses and cameras, here are links to articles, reviews, and analyses of photographic equipment produced by DxOMark, renown websites, magazines or blogs.
---
---
---
---
Comments
Why do you always ignore the lens?

Per your final comments that the G1x and RX100 should be considered for low light performance, you fail to mention that their fixed lenses are slower, thus needing an 1~3x increase in ISO to achieve similar exposure. To match the Lx-7 @90mm F/2.2 ISO 800, the G1X needs ISO 6400! If both images were compared the LX-7's is cleaner.


Reply | Read all replies for this comment
First replies for this comment
---
Re: Why do you always ignore the lens?

Hello!

Thanks for your interest in DxOMark.

In such case we try to review only what we measured and here it is the sensor.

Best regards,

The DxOMark team


Reply
---
LX7

This is a good review, but you don't mention prices? the LX7 is now going for $300. Another point is Silkypix which is given free for Panasonic cameras. For me this was important, as I find that very good and intuitive software for RAW processing. It would be good to compare Canon and Nikon in that regard also.


Reply | Read all replies for this comment
First replies for this comment
---
Re: LX7

Hello,

Thanks for your remark and support, price given in specification are only indicative. It corresponds most of the time to the launch price.
We are working on solutions that could provide pricing information update but we can't confirm when it will be done.

Best regards,




Reply
---