Panasonic Lumix G Vario 35-100mm f2.8 Power O.I.S review: Panasonic's Quality 'Tele-Zoom' for Micro 4:3
By Ben Boswell -
Monday May 06 2013
Lens Review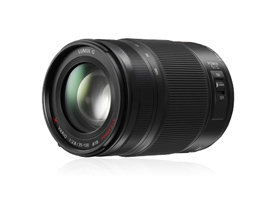 When zoom lenses were first beginning to be viable alternatives to a bagful of prime lenses back in the 1980's there were two focal length ranges that were dominant, 35-70 and 70-200: the 'standard zoom' and the 'tele zoom'. Well this 'old' approach seems to be back, Panasonic's 35-100 for their Lumix range exactly matches the 70-200 range while their 12-35 that we reviewed recently fills the 'standard' slot.
Converted to 35mm equivalent focal lengths the Lumix 35-100 is equivalent to a 70-200. It has a fixed maximum aperture of f2.8 throughout the range and has Panasonic's Power O.I.S (Optical Image Stabilization) built in. Power O.I.S is Panasonic's highest performance stabilization technology. Optically the 35-100 comprises 18 elements in 13 groups. Two of the elements are ED (Extra-low Dispersion) glass and one is UED (Ultra Extra-low Dispersion) glass. Minimum focus is 0.85m giving a maximum magnification of 0.1x. For a fast, telephoto zoom the weight and size at just 360g and 99.9mm are quite small.
Further readings for the Panasonic Lumix G Vario 35-100mm f2.8 Power O.I.S review: Panasonic's Quality 'Tele-Zoom' for Micro 4:3
To provide photographers with a broader perspective about mobiles, lenses and cameras, here are links to articles, reviews, and analyses of photographic equipment produced by DxOMark, renown websites, magazines or blogs.
---