Pentax HD DA 20-40mm f2.8-4 ED Limited lens review: Prime performance in a zoom
By Kevin Carter -
Tuesday February 18 2014
Lens Review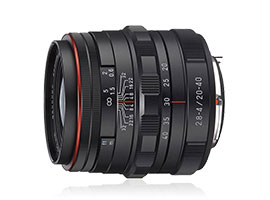 When Pentax announced the revised HD Limited primes, the firm also revealed the first HD Limited zoom. Read on to find out how this exciting new addition to the range performs.
While other firms continue to update existing full-frame lenses for use with their APS-C format cameras, Pentax has concentrated on dedicated lenses for their crop-cameras. The result is one of the widest range of lenses of this type available. The line up consists of several series but the DA Limited models are highly regarded for their mechanical construction, high-grade optics and small size.
The new HD DA 20-40mm f2.8-4 ED is the first zoom in the range from the new owner of the Pentax brand – Ricoh. It's the equivalent to a 31 to 62mm and the variable f2.8-4 maximum aperture allows both shooting in available light while maintaining a relatively small form-factor. It measures just 2.72 x 2.8 in (69 x 71mm) and weighs a featherweight 9.98 oz (283g).
This new model features a weather-sealed and machined aluminum outer and has 9 elements in 8 groups using both ED and super-ED glass in its construction. Minimum focus is just 11.02 in (28cm) while Super Protect (SP) and HD lens coatings repel dust, water and greasy fingerprints and reduce flare and ghosting respectively. The new lens is available in chrome or black finish for just less than a $1,000.
Further readings for the Pentax HD DA 20-40mm f2.8-4 ED Limited lens review: Prime performance in a zoom
To provide photographers with a broader perspective about mobiles, lenses and cameras, here are links to articles, reviews, and analyses of photographic equipment produced by DxOMark, renown websites, magazines or blogs.
---
Comments
20-40mm vs FA 20mm & DA21mm

I opted for this lens rather than the Pentax 20mm and the Pentax DA 21mm specifically because of it's size. I'm not too crazy about the pancake lenses because I like something to wrap my fingers around when I shoot. I'm not sure why DXO consistently rates Pentax lenses very low while the owners of these lenses seem to rave about them. Seems like there is some type of a Bias there...


Reply
---
Why compare with Sigma 18-35mm?

This lens is a compact and flare resistant lens with weather sealing, which performs comparably with the DA Limited lenses across the frame over the same range when stepped down to f/5.6. This has landscape/carry lens written all over it.

The Sigma has great sharpness and large aperture, but none of the other qualities of the Pentax (relatively small, weather resistance, and flare resistant). They are different lenses.


Reply
---
the real comparison

<div id="linkdxomark">This a comment for <a href="http://www.dxomark.com/Lenses/Pentax/Pentax-HD-DA-20-40mm-F28-4-ED-Limited-DC-WR">this page on the website</a></div>The appropriate comparison It would be 18-35 f 1.8 from sigma, price and release dates similarity. And that would compare to Pentax optics up to the sole of the shoes. Ooops.


Reply
---
First replies for this comment
---
Re: Pentax

Quote:


<div id="linkdxomark">This a comment for <a href="http://www.dxomark.com/Lenses/Pentax/Pentax-HD-DA-20-40mm-F28-4-ED-Limited-DC-WR">this page on the website</a></div>Certainly great lens but I expected higher sharpness...


It is already as sharp as any Pentax DA Limited prime in its range at f/5.6, what more do you want?


Reply
---