Pentax HD DA 35mm f2.8 Macro Limited lens review: Discerning choice
By Kevin Carter -
Friday December 20 2013
Lens Review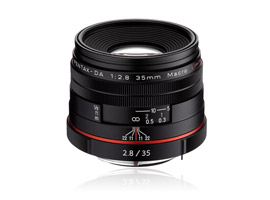 Pentax's new owners have refreshed the brand's Limited lens range adding a rounded diaphragm opening and new HD coatings for improved rendering, transmission and lower ghosting and flare. Read on to find out how well this upgraded model performs.
On an APS-C body this focal length is the equivalent to a 50mm normal lens, and a macro like this is often chosen to complement a high-speed short tele or fast moderate wide-angle. The reasoning is the flexibility. With a high-speed lens for low-light work, the standard or 'normal' macro is capable of close-ups one minute then quarter length portraits the next.
This particular DA Limited model is a revamp of the smc version, featuring a rounded diaphragm and new HD coatings. The coatings reduce ghosting and internal reflections from the sensor's surface while also improving transmission and 'clarity", say Ricoh, the present owners of the Pentax brand. The current Limited models are highly regarded for their drawing style, and while highly subjective this is an important characteristic for photographers.
The new lens retains the high-grade sturdy aluminum outer and adopts 9 elements in 8 groups and achieves a 1:1 magnification with a rather close 5.47 inch (139mm) minimum focus distance. With a 49mm filter thread, an overall an length of 2.5-inches (63mm) and weighing 7.5 oz (214g) the new Pentax HD DA 35mm f2.8 Macro Limited is available now at $749.
Further readings for the Pentax HD DA 35mm f2.8 Macro Limited lens review: Discerning choice
To provide photographers with a broader perspective about mobiles, lenses and cameras, here are links to articles, reviews, and analyses of photographic equipment produced by DxOMark, renown websites, magazines or blogs.
---
Comments
Added by

dosdan

| December 23 , 2013

With the K-3

When switch from the K-50 to K-3, the comparsion with the Tokina AT-X M35 PRO lens end up virtually being a dead head, except perhaps for the better transmitivity of the Pentax lens.

http://www.dxomark.com/Lenses/Compare/Side-by-side/Pentax-HD-DA-35mm-F28-Macro-Limited-on-Pentax-K-3-versus-Tokina-AT-X-M35-PRO-DX-AF-35mm-F28-Macro-Nikon-on-Nikon-D7100___1220_914_735_865


Reply
---
A loaded question

http://www.dxomark.com/Lenses/Pentax/Pentax-HD-DA-35mm-F28-Macro-Limited-mounted-on-Pentax-K-3__914


Reply
---