Pentax K-3 II sensor review: Reaching for the stars
By Kevin Carter -
Friday August 07 2015
Sensor Review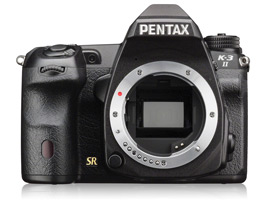 Announced earlier in the year, this model is the upgrade to the Pentax K-3 and features the same chassis and casing, 24-Mpix sensor, 27-point AF system, and high 8.3fps continuous shooting as the original, while adding new Pixel Shift resolution technology and an improved 4.5-stop shake reduction option.  Read on to find out how well the sensor in this new upgraded model performs.
Specifications and Features
Announced earlier in the year, the K-3 II is the mid-term upgrade to the maker's top-of-the-line K-3 model which already had impressive specs, including a stabilized 24-Mpix CMOS sensor, 27-point AF system (with 25 of those being horizontal and vertical line-sensitive, cross-type sensors), up to 8.3 fps continuous shooting, and a durable metal body designed for pro use. Although the new model no longer offers a built-in flash, improvements over its predecessor include an upgrade to the stabilized sensor platform.
Arguably the most significant upgrade, however, has been the introduction of Pixel Shift technology. Sometimes referred to as multi-shot technology, the sensor platform moves in one-pixel increments to capture red, green and blue data at each pixel location. Four shots are captured and combined into one image. As well as improved color, this technique results in improved detail and reduced moiré.
The new model also includes a built-in GPS receiver, recording not just location and time data, but also altitude and camera orientation. In addition, the K-3 II has a new Astrotracer feature, effectively combining the GPS and stabilized sensor-shifting capabilities to allow the camera to calculate the motion required to track and capture celestial bodies, such as stars and planets.
The Pentax K-3 II measures 5.2 x 3.9 x 3.1" / 13.2 x 10 x 7.9cm and weighs 1.76 lb / 799.5g, body only. It is available now at $1035 (USD) for the body only.
24.3-Mpix APS-C CMOS sensor
Anti-aliasing filter simulator
Shake reduction and Pixel Shift resolution
27-point AF (25 cross-type)
Prime III image processor
3.2-inch 1.03m-dot LCD
Full HD 1080p video at 30/25 fps
Expanded ISO 51200 max sensitivity
8.3 fps continuous shooting
Built-in GPS, compass, and astrotracer feature
Further readings for the Pentax K-3 II sensor review: Reaching for the stars
To provide photographers with a broader perspective about mobiles, lenses and cameras, here are links to articles, reviews, and analyses of photographic equipment produced by DxOMark, renown websites, magazines or blogs.
---
---
Comments
+1 for pixel shift scores

+1 on publishing the multi-frame/pixel-shift score for the K-3 ii


Reply
---
Added by

Toshik

| August 09 , 2015

Misprints

ISO 64000 should be 6400.

"followed by the Sony and then the Canon. At higher ISOs, there are no differences among them."

Followed by Pentax, not Sony.


Reply | Read all replies for this comment
First replies for this comment
---
Re: Misprints

Hi,
Many thanks for notifying us, we'll update this.


Reply
---
Added by

Simen1

| August 08 , 2015

Score in Pixel shift mode?

Since the DxO One camera got a special multi frame - score, i think you should extend the K-3II test with a similar multi frame score. Its relevant for still scenes with the camera on a tripod.

A fair apples to apples comparison. Olympus OM-D E-M5 mark II should also be tested that way, and the Hasselblad MS models if they get tested.


Reply
---
Pentax camera

K-3 is a very good camera, I wonder when the test successors? Oh and outstanding KS2 tests (we are known to be better than KS1) and 645Z?


Reply
---