Pentax K-30 Review
Monday September 17 2012
Sensor Review
With a DxOMark Score of 79, the Pentax K-30 takes 23rd place among all cameras tested on DxOMark, tied with such older-generation full-format digital reflex cameras as as the Canon EOS 5D Mark II, the Sony Alpha 900, and the Sony Alpha 850.
The K-30 is only one point behind the Nikon D7000, D5100, and D700, and only two points behind the Canon EOS 5D Mark III. Such results are harbingers of image quality of the highest caliber, and corroborate our hypothesis that the K-30 is equipped with a Sony 16Mpix CMOS sensor.
The Pentax K-30 is very close to all of the benchmark cameras on the digital photo market: after all, when it comes to DxOMark Scores, a difference of 5 points represents only 1/3 of a stop. Be careful, however: the K-30's excellent ranking is primarily due to its very good performance at low ISOs, and even then, its low-light performance is still a ways behind that of full-format cameras.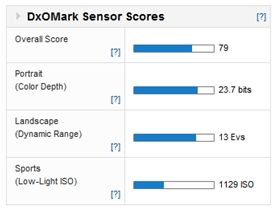 Color depth: At 23.7 bits, the Pentax K-30 places 23rd in the rankings, thus a score in perfect alignment with its overall score. Its result is 1.8 bit lower than those of the heavyweights (the Nikon D800 and D800E), but is nearly equivalent to the 24 bits of the Canon EOS 5D Mark III.
Dynamic range: Here we find the excellent behavior of the K-30's 16-Mpix Sony APS-C CMOS sensor — a dynamic range score of 13EV that puts this amateur tropicalized camera at 18th place in the rankings. Its score is slightly lower than those of cameras presumably equipped with the same sensor, such as its big brother, the K-5 (which scored 14.1EV, putting it in 3rd place), but it comes out slightly ahead of the Sony NEX-5N.
Low-light ISO: The K-30's score of 1129 ISO puts it in 23rd place yet again on our list — the same performance level as for color depth and for overall score.
Pros
Excellent color depth
Good sensitivity
Cons
A dynamic range slightly inferior to that of the Pentax K-5
Significant smoothing from 1600 ISO onwards that limits the resolution
Further readings for the Pentax K-30 Review
To provide photographers with a broader perspective about mobiles, lenses and cameras, here are links to articles, reviews, and analyses of photographic equipment produced by DxOMark, renown websites, magazines or blogs.
---