Pentax K-500 review:pared down specification, pared down performance?
By Kevin Carter -
Thursday September 12 2013
Sensor Review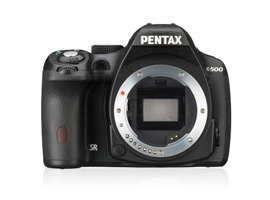 As a more accessibly priced model, the $499 Pentax K-500 is a pared down variant of the $699 K-50. It lacks the weather-sealed body and adopts AA batteries instead of a rechargeable lithium-ion pack but how well does the 16Mpix sensor perform?
At $499 the Pentax K-500 is a slightly stripped down version of the K-50, adopting the same stabilized 16MpIx resolution CMOS sensor and body of its sibling, yet lacking the weather-resistant construction, leveling option and lithium ion battery. While the K-500 is supplied with AA batteries instead (in the US only), opting for this model over the K-50 will save $200. While the lithium ion battery and charger can be bought separately in the US it's supplied as standard equipment in other markets (in place of the AA batteries).
In nearly every other respect the two cameras are identical. It has a 1/6000sec top shutter speed (with a 1/180sec flash sync), can shoot continuously at up to 6fps and captures video for up to 25mins using 1080p at 30/25/24fps in MPEG-4 AVC/H.264 using one of three compression levels. The K-500 measures 129x96.5x70mm and weighs just 650g with battery and SD card, and is available now.
Further readings for the Pentax K-500 review:pared down specification, pared down performance?
To provide photographers with a broader perspective about mobiles, lenses and cameras, here are links to articles, reviews, and analyses of photographic equipment produced by DxOMark, renown websites, magazines or blogs.
---
---