Pentax Q10 review – Is smaller better?
By David Newton -
Tuesday February 12 2013
Sensor Review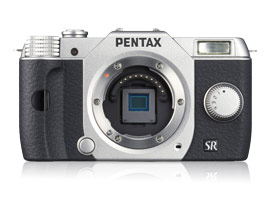 Announced in September 2012, the Pentax Q10 is the second in the Pentax Q series and lays claim to being the smallest hybrid camera currently available, offering interchangeable lenses in a package barely larger than an advanced compact camera. However, is smaller really better, and how have Pentax progressed since the Pentax Q?
Drawing heavily on the styling of the Pentax Q, according to Pentax the Q10 offers improvements in several areas to help you capture better quality images. Weighing only 200g, it would be easy to assume that the Q10 is nothing more than a simple point and shoot camera. But with a 12.4megapixel CMOS sensor featuring ISO settings to 6400 and their Shake Reduction (SR) system that moves the sensor around to compensate for camera shake, Pentax are ensuring the Q10 appeals to more advanced users as well as those just starting out.
Interestingly for a hybrid camera, Pentax use a sensor that is not much bigger than a compact camera sensor. The magnification factor is therefore 5.5x, so the standard Q-mount 5-15mm lens is the equivalent of a 27.2mm-82.5mm lens in 35mm terms.
Despite the small size of the camera, the rear screen is a good size, offering 3-inch diagonal, with 460,000pixels. It takes up a lot of the back of the camera, but with the lack of a viewfinder, the large screen still makes it easy to compose and view images.
One very nice feature is an interesting pop-up flash that extends from the camera on an arm. It won't solve the problem of red-eye when using flash, but it may go a little way to help alleviate it.
With lots of stiff competition in the hybrid camera market place, let's see how it performed in the lab.
Further readings for the Pentax Q10 review – Is smaller better?
To provide photographers with a broader perspective about mobiles, lenses and cameras, here are links to articles, reviews, and analyses of photographic equipment produced by DxOMark, renown websites, magazines or blogs.
---
---