Pentax Q10 review – Is smaller better?
By David Newton -
Tuesday February 12 2013
Sensor Review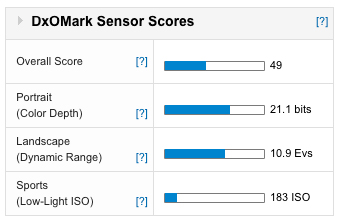 Fairly middle of the road scores for the Pentax Q10, but impressive when compared to the size of the camera and sensor
The previous version of this camera, the Pentax Q, is ranked 171st in the DxO sensor rankings and this new model shows a slight improvement, jumping to 165th in the ranking. An overall DxOMark score of 49 suggests the Pentax Q10 is not bad for a hybrid camera. It is by no means an earth-shattering performance.
In the portrait tests, a score of 21.1bits is good. A score of 22bits is considered excellent, so 21.1bits is not a bad performance and suggests the colour performance of the Q10 will please those looking to capture holiday pictures of the children as much as those shooting portraits more seriously.
In the landscape test, the Q10 scores 10.9Evs. This is good without being great and suggests that in normal shooting, the Q10 will fair quite well, but as soon as the contrast range starts increase – at sunrise or sunset for example, you may soon reach the limitations of what the Q10 can capture without blocking up shadows or blowing highlights.
Finally, in the sports test, the Q10 only managed 183ISO. This is a very poor score and is most likely a function of the very small sensor that is less efficient at light gathering. Of the three areas tested, it is this that is most harmful to the Q10's overall score.
Further readings for the Pentax Q10 review – Is smaller better?
To provide photographers with a broader perspective about mobiles, lenses and cameras, here are links to articles, reviews, and analyses of photographic equipment produced by DxOMark, renown websites, magazines or blogs.
---
---