Pentax smc DA 50mm f/1.8 lens review: accessible price and excellent aberration control
By Kevin Carter -
Tuesday July 02 2013
Lens Review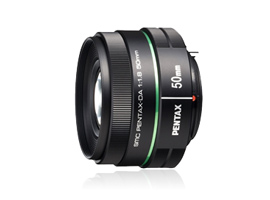 With an external design in keeping with the firm's highly regarded 'Limited' range of premium quality lenses, this model is an affordable alternative within the range and the equivalent to a moderate telephoto with the angle of view of a 75mm, when mounted on a APS-C body. Read on to see how well it performed when mounted on the Pentax K5 body.
Measuring just 38.5mm in length and weighing 122g, this tiny featherweight prime boasts a fast f/1.8 maximum aperture. As a moderate telephoto the 35mm full-frame equivalent to a 75mm when mounted on an APS-C body, this lens is particularly suited to indoor portraits and candid 'street' photography.
Further readings for the Pentax smc DA 50mm f/1.8 lens review: accessible price and excellent aberration control
To provide photographers with a broader perspective about mobiles, lenses and cameras, here are links to articles, reviews, and analyses of photographic equipment produced by DxOMark, renown websites, magazines or blogs.
---
---