Preview: Fujifilm XF1
Friday September 21 2012
Sensor Preview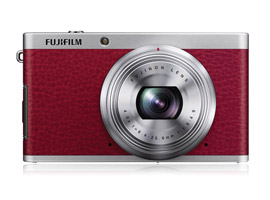 Fujifilm's XF1 adopts a retro design that is frequently being employed by many of the top camera manufacturers. But this pocket-sized point-and-shoot is more of a showstopper – its polished leather-like finish demands attention. Does the XF1 have the sexy technical specs to match its killer good looks? Read DxOMark's preview to get the skinny on the XF1's most impressive highlights.
If looks could kill, the Fujifilm XF1 would be a successful assassin. It marries together a vintage design with modern touches, including a lightweight aluminum frame wrapped in luxurious looking imitation leather. The latter component comes in three colors: a classic black, a rustic looking brown, and a head turning shade of red. But this camera cloaked in faux leather is not meant for just faux-tographers – it packs some impressive specs to compliment its physical beauty.
Peeling away the XF1's exterior, a user will find the camera's 12-megapixel 2/3-inch EXR-CMOS sensor. The sensor helps the XF1 achieve an ISO range spanning 100-12800. However, for higher ISO settings, the camera shrinks its pixel count to either 6 or 3 megapixels (depending on ISO). The latter is intended to provide users with maximum image quality in poor lighting.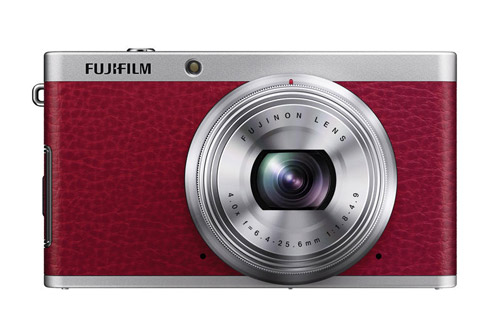 The camera's sensor is complimented with its optics which includes 7 lens elements in 6 groups. The camera's combined glass provides users with a 4X zoom lens that is equivalent to a focal length range of 25-100mm. Fujifilm advertises the XF1 as having aperture settings spanning the wide f-stop of f/1.8 to a more modest f/4.9. Users will need the widest aperture in low light, as the camera has no built-in flash. Interestingly, the lens is manual, and can be operated by simply twisting the zoom ring.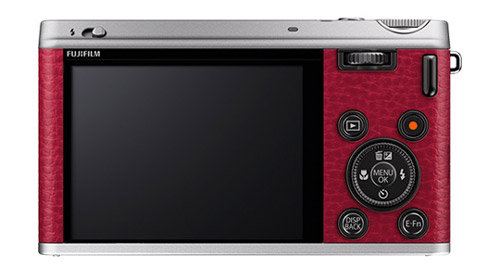 Cool creative features are also crammed into the hardware of the XF1, including Fujifilm's advanced filter options. The latter allows users to select 11 creative patterns like pop color, toy camera, and miniature effect. And all these artistic touches can be viewed using the XF1's 3-inch 460k-dot LCD monitor (which happens to not be a touchscreen).
A summary of the Fujifilm XF1's top specifications include:
• Sleek design and leather wrapped exterior. Comes in three colors.
• Its 12-megapixel CMOS sensor.
• Manually adjustable 25-100mm equivalent lens.
• Aperture range of f/1.9-f/4.9 – the latter for telephoto lengths.
• ISO range of 100-12000.
• Creative filters and panorama mode.
• JPEG and RAW file formats.
• 3-inch LCD monitor with 460k-dot resolution.
• Full HD video with stereo sound.
• Its light and compact build means it can fit in most pairs of skinny (weight: 255 grams / 8.99 oz; measures: 108 x 62 x 33mm / 4.25 x 2.44 x 1.3 inches).
Further readings for the Preview: Fujifilm XF1
To provide photographers with a broader perspective about mobiles, lenses and cameras, here are links to articles, reviews, and analyses of photographic equipment produced by DxOMark, renown websites, magazines or blogs.
---
Comments
Added by

jfy65

| March 26 , 2013

Lens performance for compact cameras

Lenses are often quite weak on compact cameras. However DXOmark publishes score for the sensor only. Is it possible to draw any conclusion from this measurement as to the photographic quality of the camera including the lens ? Do you plan to test the combination of lens and sensor as you do for DSLR ?
Thank you for your reply.


Reply | Read all replies for this comment
First replies for this comment
---
Lens performance on Enthusiast Compacts?

Thank you for another useful review. I often refer to your reviews when looking to make a new purchase, particularly for lenses. I note that DXO generally does not review a lens on compact enthusiast cameras. Most photographers, myself included believe the lens has a larger impact on final image quality than the sensor. I am sure the DXO testing experts would agree that a great sensor provides little value when pared with a dull lens with high distortion, vignetting and Chr. aberration. Image Quality is very important when comparing enthusiast cameras, please provide lens performance in future reviews.

Thanks



Reply | Read all replies for this comment
First replies for this comment
---
Added by

Hakeem

| March 10 , 2013

Once again the same repeated arrogance

You don't need to judge what's fair and not. This is so strange you think EXR Modes are cheat or unfair? Even if so, you can keep your combined score and comparison with the standard mode, but still mention how much DR and ISO performace improves in the respective priority modes.

Let consumers decide what it is ..


Reply | Read all replies for this comment
First replies for this comment
---
EXR score

"To ensure a fair comparison with sensors from other manufacturers however, DxOMark presents Sensor Scores for the Fujifilm XF1 using a normal exposure mode and not EXR Mode."

Totally unfair, if you ask me. What is the point of testing an EXR sensor in its normal mode? An EXR sensor is capable of delivering better results in its other modes!


Reply | Read all replies for this comment
First replies for this comment
---
EXR scoring

"To ensure a fair comparison with sensors from other manufacturers however, DxOMark presents Sensor Scores for the Fujifilm XF1 using a normal exposure mode and not EXR Mode."

Why not present both scores - with EXR and without - but use traditional scores in comparisons against others? I think it would be fair for the consumers to know what can be achieved with different approaches.


Reply | Read all replies for this comment
First replies for this comment
---
Added by

triglav

| November 10 , 2012

XF1 built-in flash

The statement that the camera does not have a built-in flash is wrong. It is just impossible to attach an external flash.


Reply
---