Ricoh GR Lens review: High imaging performance at a more accessible price
By Kevin Carter -
Tuesday June 11 2013
Lens Review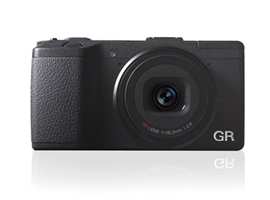 After analyzing the lens performance of the Nikon Coolpix A, we've now turned our attention to that camera's direct competitor, the Ricoh GR. Read on to see how well the GR lens stacks up against the rival Nikkor.
The Ricoh GR is very much in the same mold as the Nikon Coolpix A but can trace its roots back to the film era with the original GR1 sporting a 28mm f/2.8 fixed focal length lens back in the day. With the digital Ricoh GR featuring a APS-C format 16.2 Mpix CMOS and a retracting 18.3mm f/2.8 prime (equivalent to a 28mm) it's a very capable and very compact camera ideal for not only landscapes, architecture, and documentary type work but also environmental portraiture and street photography.
Further readings for the Ricoh GR Lens review: High imaging performance at a more accessible price
To provide photographers with a broader perspective about mobiles, lenses and cameras, here are links to articles, reviews, and analyses of photographic equipment produced by DxOMark, renown websites, magazines or blogs.
---
---
---
Comments
Added by

josa

| August 28 , 2013

GR

I love my GR!!!


Reply
---
Ricoh GR vs Nikon A

How do you know that there is a difference in focus distance ? It is very strange since the two lenses have almost the same length (18.5 for the Nikon vs 18.3 for Ricoh). The Ricoh has 2 aspheric elements, which is not the case for the Nikon (0 aspherical elements), and since the distance between the sensor and the lens is very small, this is maybe the explanation.

DxO team write "In the extreme corners the Ricoh is brighter, approximately 1 EV at full aperture dropping to +2/3EV from f/4 through to f/16. In today's digital world, however, vignetting isn't as much as a problem as it was in the days of film."

Vignetting is not a problem because softwares can correct that ...

I am still curious about the way DxO lens score integrates the homogeneity of resolution across the whole frame.

Anyway, 2 top cameras, both permitting fantastic image capture. Nikon was commercialized before the Ricoh, and the Ricoh is less expensive (250 €) ...

Best regards

http://www.dpreview.com/previews/ricoh-gr/9


Reply
---
Comparison with dpreview

Have a look at the dpreview preview. The huge difference in the corner (in favor of the Ricoh) is absolutely not mentioned in the DxOmark analysis. This compromises the impartiality of DxO or method used or constructing of scores.

http://www.dpreview.com/previews/ricoh-gr/9


Best regards,

Fourthird


Reply | Read all replies for this comment
First replies for this comment
---
Added by

josa

| June 11 , 2013

GR

Great performance indeed, finally some positive news, unlike a "new", in Afghanistan design Leica Mini M....


Reply
---