Ricoh GR review: A high performance compact camera
By David Newton -
Thursday May 23 2013
Sensor Review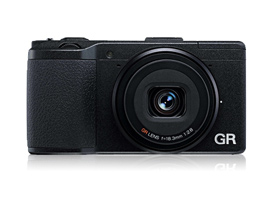 Released in April 2013, the Ricoh GR goes by the tagline of "Everything is big, except the size". It points clearly to the raison d'être of this camera – to be a compact model with a large sensor with the aim of offering DSLR-like performance without the size and weight associated with them. As with several models in this niche, it seems to hark back to days gone by with a retro style. While this impacts the versatility of the camera, it's much easier to make a high quality prime lens that can extract the most from the large, 16megapixel APS-C sensor tucked away inside. Within this sector we've seen some very good cameras through the labs in recent months, so the GR has got stiff competition.
Further readings for the Ricoh GR review: A high performance compact camera
To provide photographers with a broader perspective about mobiles, lenses and cameras, here are links to articles, reviews, and analyses of photographic equipment produced by DxOMark, renown websites, magazines or blogs.
---
Comments
First replies for this comment
---
Added by

josa

| May 24 , 2013

GR

Great to know it's in the league as Nikon A but much cheaper...still waiting for an arrival of this wonder machine.


Reply
---
First replies for this comment
---
Research first than write your article

Please research data before typing out obvious bunk. Stating the K-5IIs score of 1208 for ISO is "quite a low score compared to other APS-C sensor DSLR's available", is ridiculous. Other than the 5200 and 7100 that are a smidge better please let us know of all of those other far superior cameras.

Thanks


Reply | Read all replies for this comment
First replies for this comment
---
ISO

Don´t really understand your conclusion. Why to hell the K-5 (IIs or not), two months ago one if not the best APS-C camera sensorwise is now LOW in ISO performance? And what are the other cameras, that are so better? I really don´t understand your phrase, or you wanted to say that the GR ISO performance wasn´t up to the performance of other, DSLR-sensors?
Thank you very much for clarifying this!


Reply | Read all replies for this comment
First replies for this comment
---
Added by

ct529

| May 23 , 2013

Low light ISO

You say that the low light ISO score of the K5IIs is quite a low score compared to other APS-C sensor DSLRs available. It is actually quite high, with a difference of only the 3.8% from the D7100.

I think the data may be misinterpreted.

How many cameras do you test for each model? Do we have a mean, median and variance for the values? If you only test one, then it could be within the statistical variation of the sensor.

Disclaimer: I do not have a Pentax and do not work for Pentax.


Reply | Read all replies for this comment
First replies for this comment
---
Added by

DXOref

| April 24 , 2013

Love this direction

Looking forward to seeing how the newest incarnation of the classic GR ranks amongst the rest of this great 2013 class of APS-C crop-sensor primes.

Including X100S!


Reply
---