Samsung NX20 review - A great performance among stiff competition
By Ben Boswell -
Wednesday February 27 2013
Sensor Review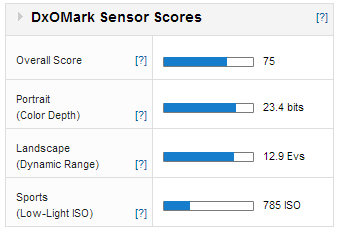 The Samsung NX20 has a very good DxO Mark Score: 75 overall makes it the 5th highest scoring hybrid camera. The Portrait score of 23.4 bits gives it the same rank for color depth. In Landscape at 12.9 EV it is joint third for dynamic range. The Sport score of 785 ISO is less impressive but it is still in the top third of all hybrid cameras. The term 'Hybrid' covers quite a wide range and the NX20 is placed very well in the group. If you make the group bigger and include all APS-C cameras then the results are still very creditable, the Samsung is joint 15th of the group, yet it is well down the scale for price.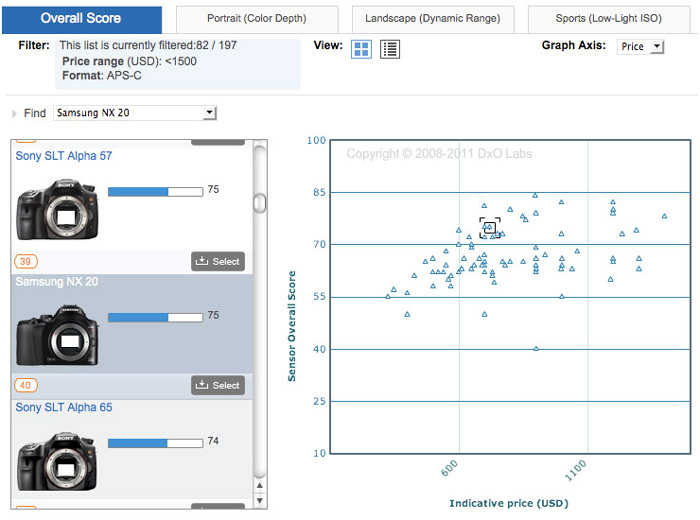 This chart shows all APS-C cameras, SLR, SLT and Hybrid (excluding the most expensive). It shows just what good value the Samsung NX20 is: there is only one higher scoring camera that is cheaper, the Nikon D3200, which scored 81 and one camera that matches the NX20's score, at a fractionally lower price, the Sony Alpha 57.
Further readings for the Samsung NX20 review - A great performance among stiff competition
To provide photographers with a broader perspective about mobiles, lenses and cameras, here are links to articles, reviews, and analyses of photographic equipment produced by DxOMark, renown websites, magazines or blogs.
---
Comments
Added by

XCLN

| July 05 , 2013

Fuji X-Trans sensors

I understand that they are outside your normal current system.
Still, it would be great if you could test these. PLUS you might benefit from looking outside the box - there must be a common ground to Bayer and X-Trans, and all other sensors, after all isn't human vision the final arbiter?


Reply | Read all replies for this comment
First replies for this comment
---
Re: Fuji X-Trans sensors

Hello!

Thanks for your comment.

The test of the Fuji X-Trans cameras is not planned for now.

Best regards,

The DxOMark team


Reply
---
First replies for this comment
---
Re: Have you heard about Fuji ?

Hi,

Thanks for your interest in DxOMark.

If you are referring to the Fuji X cameras, you probably know that they do not use a Bayer matrix but a "X-Trans" matrix. We will try to test this sensor, but although we try to respond to your requests to provide tests for specific camera models, there are no plans for doing it in the short term.

Best regards,

The DxOMark Team


Reply
---