Samsung NX200 review – A hybrid with purpose
By David Newton -
Tuesday February 26 2013
Sensor Review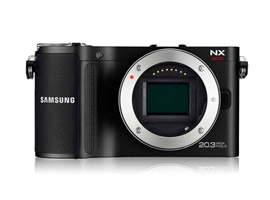 Launched in September 2011, the Samsung NX200 marks a significant point in the NX line because it features an all-new APS-C CMOS sensor with 20.3megapixels. Among the hybrid cameras, this is about as big as sensors currently get, so Samsung are aiming at the high ground, a fact confirmed by the premium feel all-metal body – a first in the NX-series.
The NX200 could be perceived as a slightly confusing object – unlike almost every other manufacturer, Samsung have not offered basic modes for beginners and advanced modes for more experienced photographers. Instead, they have gone with one approach applied across all modes. Dubbed "Smart Panel" it provides quick and simple access to all the shooting settings that you'll want to use regularly.
The sensor resolution is high too – at 20.3megapixels, it rivals many DSLR cameras in terms of pixel count. And Samsung have given it the ability to shoot at 7fps. Again, this is better than most DSLR cameras can achieve.
The 3inch AMOLED display is another highlight that makes viewing the screen easier in bright sunlight – an important consideration for hybrid cameras that don't feature a traditional viewfinder.
An ISO range that extends to 12,800 puts the NX200 to the top of the class in terms of specification. But with such a high resolution for an APS-C sensor, let's see how it fared in the lab tests.
Further readings for the Samsung NX200 review – A hybrid with purpose
To provide photographers with a broader perspective about mobiles, lenses and cameras, here are links to articles, reviews, and analyses of photographic equipment produced by DxOMark, renown websites, magazines or blogs.
---
Comments
Incomplete comparison

It is become a sad joke... What about Fuji ? There are out for a long time, and the only ones not to be tested. What's wrong ? Where is your credibility with such a miss ?


Reply | Read all replies for this comment
First replies for this comment
---
Added by

iamsam

| February 27 , 2013

11 lenses including 3 pancakes

To set the record straight - there are 11 current NX lenses including 3 pancakes. One wonders when this article was actually written...


Reply | Read all replies for this comment
First replies for this comment
---
First replies for this comment
---