Samsung NX200 review – A hybrid with purpose
By David Newton -
Tuesday February 26 2013
Sensor Review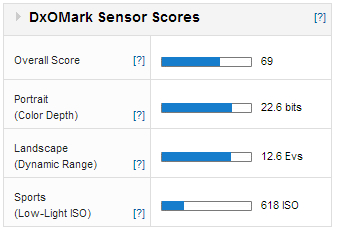 In terms of overall performance, the NX200 does very well with a DxOMark overall score of 69 – enough to put the sensor 60th in the DxOMark sensor rankings. This is just above the Sony NEX5, one place behind the Nikon D300s and only four places behind the Canon EOS 5D. While these two DSLR models are a little older now, it shows how well the hybrid camera sensors are performing relative to two DSLR models that just a couple of years ago were considered industry heavyweights.
Looking a the scores in more detail, we can see that the Portrait score of 22.6bits is good enough to put the NX 200 into 69th in the portrait score rankings.
Even more impressive is the Landscape score that measures dynamic range – 12.6 Evs puts the camera into 33rd place. If we stopped here, it would seem that the NX 200 was a highly capable camera in all situations.
However, the Sports score – that measures low-light ISO performance – is the Achilles heel of the NX 200. A score of 618 ISO puts the camera into 92nd place on the overall ISO rankings. For an APS-C sensor, this is lower than expected and compared to other APS-C sensor hybrids, and it's near the bottom of the pile. By comparison, the top performing (in the ISO tests) APS-C sensor hybrid, the Pentax K 01, scores 1135 ISO – a significant difference.
Further readings for the Samsung NX200 review – A hybrid with purpose
To provide photographers with a broader perspective about mobiles, lenses and cameras, here are links to articles, reviews, and analyses of photographic equipment produced by DxOMark, renown websites, magazines or blogs.
---
Comments
Incomplete comparison

It is become a sad joke... What about Fuji ? There are out for a long time, and the only ones not to be tested. What's wrong ? Where is your credibility with such a miss ?


Reply | Read all replies for this comment
First replies for this comment
---
Added by

iamsam

| February 27 , 2013

11 lenses including 3 pancakes

To set the record straight - there are 11 current NX lenses including 3 pancakes. One wonders when this article was actually written...


Reply | Read all replies for this comment
First replies for this comment
---
First replies for this comment
---