Samyang 24mm F1.4 ED AS UMC (AE) lens review: Best 24mm lens for Nikon full-frame users?
By Kevin Carter -
Wednesday March 19 2014
Lens Review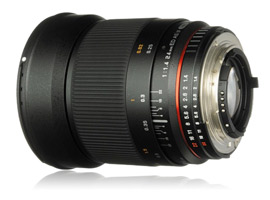 Following the recent review of the Canon mount model we've had the opportunity to test the Nikon mount version of ultra-high speed Samyang 24mm F1.4 prime. Unlike the Canon version this model has a built-in CPU for full compatibility with the various exposure and metering modes. It also has a fully automatic aperture. Read on to find out how well the Samyang performs in our tests and if that or a rival model is the best choice for Nikon FX users.
With an extensive field of view and good close focus capability, the 24mm focal length is one of the most popular wide-angle models in a maker's range. In the past the choice of ultra-high speed models has been limited to the expertise of the camera marques but that's no longer the case. South Korea lens maker Samyang has a manual focus only model, the 24mm f1.4 ED AS UMC, at just $669. At that price it lacks niceties such as auto-focus but unlike the recently reviewed Canon mount version the Nikon mount (AE) model has a built-in CPU and data-bus contacts (like the manual focus Zeiss ZE model) allowing full compatibility with various exposure and metering models employed by current Nikon DSLR. Crucially it has automatic aperture control, which is a big plus over the Canon model but it is expected these days regardless of price. The optical construction is a real highlight and reads like a top-tier model. It has 13 elements in 12 groups, including four ED glass elements to minimize chromatic aberration and two aspherical elements to reduce spherical aberration. With a 77mm filter thread and measuring 3.27 x 3.74" (83 x 95 mm) this is a big lens, and at over half a Kilo (580g) or 20.46 oz it's the weight of some DSLRs.
Further readings for the Samyang 24mm F1.4 ED AS UMC (AE) lens review: Best 24mm lens for Nikon full-frame users?
To provide photographers with a broader perspective about mobiles, lenses and cameras, here are links to articles, reviews, and analyses of photographic equipment produced by DxOMark, renown websites, magazines or blogs.
---
Lens Review
|
March 12, 2014
| | |
| --- | --- |
| | We've had the opportunity to test the new ultra-high speed Samyang 24mm F1.4 prime, and thought we would alter our usual review format to take a look at the best lenses for Canon full-frame users. Read on to find out how well the Samyang performs in our tests and if that or a rival model is the best choice. |
---
---
Comments
Added by

Nethir

| June 18 , 2015

Filter

I think the filter size is 77mm


Reply
---
First replies for this comment
---
Re: Samyang

Excellent performance for the price.
IRO performance in general, not so much.


Reply
---
Added by

MikkiX

| February 09 , 2014

Good lens

Please test this lens !!
Bought it for Sony A7 with adapter, and am quite happy with it. Stepped a bit down it is super sharp in centre area (full frame). Bokeh is creamy and very pleasant. Focus wheel is is precise and gives a feeling of working with high quality. It is a bit big and heavy for carry on a the camera on a neck strap. With focus peaking enabled in the cam it is fast and easy to do the manual focusing required for this lens.
Some other reviews says that this lens is at least as good and sharp as the 35mm in center area, and slightly less sharp at the edges. I dont care about corner sharpness, so thats not a problem for me. Stepped down to f2.0 I very seldom put the object at focus in the corner of the image. Compared to Carl Zeiss lenses I would say that this is almost as sharp, has better Bokeh, but that Carl Zeiss has better contrast. Contrast I fix afterwards, so I really just care about sharpness and bokeh, and then this lens beats the Zeiss. :)


Reply | Read all replies for this comment
First replies for this comment
---
Re: Good lens

Dear MikkiX,

Test results will be released soon! Stay tuned ;)


Reply
---