Samyang 24mm F1.4 ED AS UMC Pentax and Sony mount lens review: Best 24mm lens for those users?
By Kevin Carter -
Friday April 25 2014
Lens Review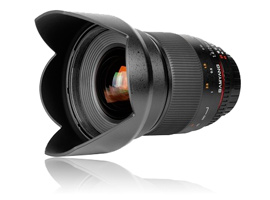 Following the recent reviews of the Canon mount and modified Nikon (AE) models we've now turned our attention to the Sony Alpha and Pentax K mount versions of the ultra-high speed Samyang 24mm f1.4 prime. Read on to find out how well the Samyang performs and if that or a rival model is the best choice for Sony and Pentax users.
Like other models from the firm, at $669 the Samyang 24mm f1.4 ED AS UMC is a modestly priced manual focus only model with an impressive optical design. The formula comprises of 13 elements in 12 groups, including four ED glass elements to reduce the effects of chromatic aberration and two aspherical elements to decrease spherical aberration and distortion. However, there are some concessions to the accessible pricing.
Like the Canon mount version previously reviewed, the Sony and Pentax mount models eschew any electronic or mechanical linkages, thus restricting the handling and operation of the lenses. As a result both models lack an automatic diaphragm and adopt stopped down metering only, requiring the user to focus and close the diaphragm to the taking aperture before making the exposure. Curiously, Samyang offers those features without a premium on Nikon (AE) mount model but not on any other mount.
As a full frame model the 24mm focal length is a popular choice, and as a 35mm equivalent on Pentax DSLRs it remains a tempting option. However, with 77mm filter thread and measuring 3.27 x 3.74" (83 x 95 mm) and weighing 20.46 oz or (580g) this is a big and heavy lens. It's available now in Pentax or Sony Alpha mounts at $669.
Further readings for the Samyang 24mm F1.4 ED AS UMC Pentax and Sony mount lens review: Best 24mm lens for those users?
To provide photographers with a broader perspective about mobiles, lenses and cameras, here are links to articles, reviews, and analyses of photographic equipment produced by DxOMark, renown websites, magazines or blogs.
---
---
---
---