Samyang announces the Samyang 24mm f/1.4 ED AS UMC
Friday August 19 2011
Lens Review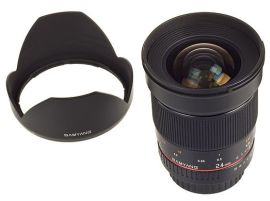 Earlier this week, Samyang announced a new lens: the Samyang 24mm f/1.4 ED AS UMC, soon available for Canon, Four Thirds, Nikon AE, Pentax, Samsung NX and Sony Alpha.
Due to the different crop factors, this 24mm will give different equivalent field of view and play different roles in your gears: on a Four Third, it becomes a 48mm, well suited for portrait, and on a full frame, it gives a wide angle better at architecture and landscape photos. You should also note that the Samyang 24mm f/1.4 ED AS UMC doesn't offer any autofocus capabilities, so be prepared for manual focusing. But, as usual with Samyang, this should enable this lens to be sold for a very reasonable price.
In term of design, these lenses are accomodate 13 lenses among which 4 are made of ED low-dispersion glass and 2 are aspheric lenses. The lenses are treated with multi-layer anti-reflective coating (UMC) which should also improve the light transmission. This all sound promising, so let's wait for the test results shortly after commercial availability expected at the end of this year or early next year. To be informed as soon as the results become available, feel free to subscribe to our RSS feed or follow us on Twitter.
Further readings for the Samyang announces the Samyang 24mm f/1.4 ED AS UMC
To provide photographers with a broader perspective about mobiles, lenses and cameras, here are links to articles, reviews, and analyses of photographic equipment produced by DxOMark, renown websites, magazines or blogs.
---
Comments
Added by

Nethir

| June 18 , 2015

Filter

I think the filter size is 77mm


Reply
---
First replies for this comment
---
Re: Samyang

Excellent performance for the price.
IRO performance in general, not so much.


Reply
---
Added by

MikkiX

| February 09 , 2014

Good lens

Please test this lens !!
Bought it for Sony A7 with adapter, and am quite happy with it. Stepped a bit down it is super sharp in centre area (full frame). Bokeh is creamy and very pleasant. Focus wheel is is precise and gives a feeling of working with high quality. It is a bit big and heavy for carry on a the camera on a neck strap. With focus peaking enabled in the cam it is fast and easy to do the manual focusing required for this lens.
Some other reviews says that this lens is at least as good and sharp as the 35mm in center area, and slightly less sharp at the edges. I dont care about corner sharpness, so thats not a problem for me. Stepped down to f2.0 I very seldom put the object at focus in the corner of the image. Compared to Carl Zeiss lenses I would say that this is almost as sharp, has better Bokeh, but that Carl Zeiss has better contrast. Contrast I fix afterwards, so I really just care about sharpness and bokeh, and then this lens beats the Zeiss. :)


Reply | Read all replies for this comment
First replies for this comment
---
Re: Good lens

Dear MikkiX,

Test results will be released soon! Stay tuned ;)


Reply
---