Sigma 17-70mm F2.8-4 DC Macro HSM C Sony and Pentax mount lens review: Smaller, lighter and improved uniformity
By Kevin Carter -
Wednesday February 05 2014
Lens Review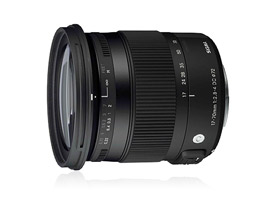 Designed as a fast 'standard' zoom, the Sigma 17-70mm f2.8-4 DC Macro HSM C is the first model in the firm's 'Contemporary' series. Featuring a revamped exterior and modified optical construction, the lens is intended as a premium alternative to the official starter lenses found in camera 'kits'. Read on to see how well it performs.
Although the 'starter' type lenses found in camera kits are generally good-performers, Sigma's hoping potential purchasers will either be tempted when ordering their new camera body or maybe even replace their existing 18-55mm kit lens with this faster (brighter) model.
Although this recently upgraded zoom shares a similar cosmetic appearance to the firm's Art-series this new model is the first of the new general-purpose Contemporary line. As well as a revised exterior, it features a modified optical construction consisting of 16 elements arranged in 14 groups. Like its predecessor it has has a sonic-type AF motor and focuses to a minimum distance of 8.67" (22cm) and a maximum magnification of 1:2.8. However, with a 72mm filter thread and 3.1" (79mm) maximum diameter and an overall length of 3.2" (82mm) it's smaller and lighter (at 16.04 oz / 465g) than the lens it replaces. It's available now, with a $30 premium over the model it replaces, at $499.
Further readings for the Sigma 17-70mm F2.8-4 DC Macro HSM C Sony and Pentax mount lens review: Smaller, lighter and improved uniformity
To provide photographers with a broader perspective about mobiles, lenses and cameras, here are links to articles, reviews, and analyses of photographic equipment produced by DxOMark, renown websites, magazines or blogs.
---
---
Comments
Lens scores

I'm interested in how you determine the lens scores. For example if we take Sigma 17-50 2.8 OS on D5300 versus Nikkor 24-70 2.8 on Nikon D800, both have sharpness of 15MP, both have the same distortion and transmission, and the other 2 parameters are even better for the Sigma. At the end the Sigma has 20 pts overall score and the Nikkor 28. So, my question is whether you sum up the results for every focal length and aperture? Or being a FF lens makes the difference @ DXO, bearing in mind that f/2.8 APSC = f/4 on full frame? This is true not only for the DOF equivalence, but even for SNR and DR and colour depth and so, because f/4 on FF @ ISO200 = f/2.8 on APSC @ ISO100 in view of the former parameters.


Reply | Read all replies for this comment
First replies for this comment
---
Re: Lens scores

DxO score is very useful in many cases, however it is somehow confusing from a lot of results here. The overall score of many lenses show something different with other common review sources. Some high end lenses with high price rate even have lower score, or just be equal or a very little bit higher than low end lenses, including kit lenses.

E.g when I read the review of best lenses for 700D the EF-S 18-55mm is showed in the list whereas the EF-S 15-85mm which is considered as higher grade in terms of price and quality is not showed. Although 15-85mm is also kit lenses (with 7D) however it is obviously considered better than 18-55mm , at least from review sites like Digital Camera review, or Kenrockwell, photozone, SLRGear, ...

Other examples like Canon 10-22mm vs Tokia 11-16mm (lower score on 7D), ... Well I sometimes get confusing with such things ...


Reply
---
Re: Lens scores

Hi,
Please find the whole comparison here:
http://www.dxomark.com/Lenses/Compare/Side-by-side/17-50mm-f-2.8-EX-DC-OS-HSM-Nikon-on-Nikon-D5300-versus-AF-S-Nikkor-24-70mm-f-2.8G-ED-on-Nikon-D800___377_919_175_792

We always evaluated lens on camera, and as for the DxOMark score, we take into account noise and sensor dynamic. So even if sharpness is the similar on these two sensors, noise will not be the same (compare the two sensors in screen mode here is the link: http://www.dxomark.com/Cameras/Compare/Side-by-side/Nikon-D5300-versus-Nikon-D800___919_792).
Best regards.


Reply
---
Re: Lens scores

Hi Tuanp2005,
Thanks for your support! Here are the comparisons:
http://www.dxomark.com/Lenses/Compare/Side-by-side/EF-S-15-85mm-f-3.5-5.6-IS-USM-on-Canon-EOS-70D-versus-Canon-EF-S-18-55mm-F35-56-IS-STM-on-Canon-EOS-7D___239_895_1138_619

The 15-85mm achieves a very close DxOMark score (13 vs 14) but has a larger zoom factor and a higher sharpness score (10 vs 9).

You have to keep in mind that it is always more difficult to achieve a very high image quality on the whole focal range when the focal range is huge.

About the second comparison, the Tokina is slightly above the Canon but it is a brighter lens. The only weakness is the chromatic aberration (which is a bit strong in this case).
Best regards.


Reply
---