Sigma 17-70mm f2.8-4 DC Macro OS HSM C Canon review - The Above 'Standard' Zoom
By Ben Boswell -
Friday March 01 2013
Lens Review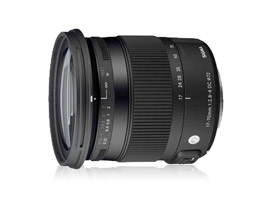 For many people an introduction to photography is through a compact camera: usually, these days, one with a zoom lens covering medium-wide through to short telephoto. The next step is often an SLR and the "standard" zoom, covering the same range. The quality of this "standard" zoom can be the difference between great results and disappointment, so the choice is important. This Sigma 17-70 f2.8-70 f2.8-4 DC Macro OS HSM C Canon is both good and versatile, no disappointment here.
The Sigma 17-70 f2.8-4 DC Macro OS HSM C Canon is a "standard" zoom lens for APS-C cameras, in this case Canon. It is also available for Nikon and Sigma APS-C bodies. It covers the range 17mm to 70mm, the relative focal length for full frame 35mm would be 27.2mm to 112mm. This type of lens is aimed at photographers looking for a single, all purpose lens that will at the same time be compact enough to carry around. This particular lens is also equipped with a Macro setting allowing focussing down to 22cm giving a reproduction ratio of 1:2.9.
The design is of 16 elements in 14 groups, two of the elements are FLD (with characteristics similar to flourite glass) and one is SLD (Special Low Dispersion glass). It is optimised for use with digital capture, as one would expect for an APS-C lens and is equipped with optical stabilisation (OS), a hyper-sonic motor (HSM) for autofocus and a 7 bladed iris giving a round aperture. The diameter is 79mm, the length 82mm and the weight is 470g Sigma has recently introduced categories for its lenses, A for Art lenses, S for Sport lenses and C for Contemporary lenses.
This 17-70 is the first offering in the Contemporary category, the design characteristics of which are 'Superior optical performance and compactness". The construction of the lens includes "Thermally Stable Composite" (TSC) material for increased durability and reduction in weight. Sigma does not explain exactly what this material is but it has the benefits of polycarbonate components, but avoids their thermal expansion.
Further readings for the Sigma 17-70mm f2.8-4 DC Macro OS HSM C Canon review - The Above 'Standard' Zoom
To provide photographers with a broader perspective about mobiles, lenses and cameras, here are links to articles, reviews, and analyses of photographic equipment produced by DxOMark, renown websites, magazines or blogs.
---
Comments
Added by

Mato34

| March 03 , 2013

Regarding three versions of Sigma 17-70

I'm a Nikon user, and got my Sigma 17-70/2.8-4.5 (first version) when bought my D300.

I was really happy and amazed of how sharp could be that lens, and even I got the Nikon 16-85 VR only to sell it some time later because I liked way more the microcontrast and clarity of the Sigma.

Then the 17-70 OS version showed up, and being so happy with the first version I bought this OS one. But I was shocked because results weren't so good. Tried three copies, and below 35-50 mm field curvature was really a problem even at f/8: focus on the center and get blurried sides, focus on sides and get blurried center. It was so heavy that I almost couldn't believe it, but I was seeing it... A couple of years ago I could test a new sample from a friend that didn't show that field curvature (???), but anyway results weren't that good, my old 2.8-4.5 was still better on corners closing at f/5.6 than the OS at f/8.

And now here comes this C version, and again I'm quite excited about it. Well, not that much now, because when comparing measurements of the three versions at 17 and 24 mm I can see that the first one still delivers sharp corners, but not so the OS nad C versions.

Can wait for real samples, but I have liked to see something different at the wide end in the corners.

Saludos!


Reply
---