Sigma 17-70mm f2.8-4 DC Macro OS HSM C Canon review - The Above 'Standard' Zoom
By Ben Boswell -
Friday March 01 2013
Lens Review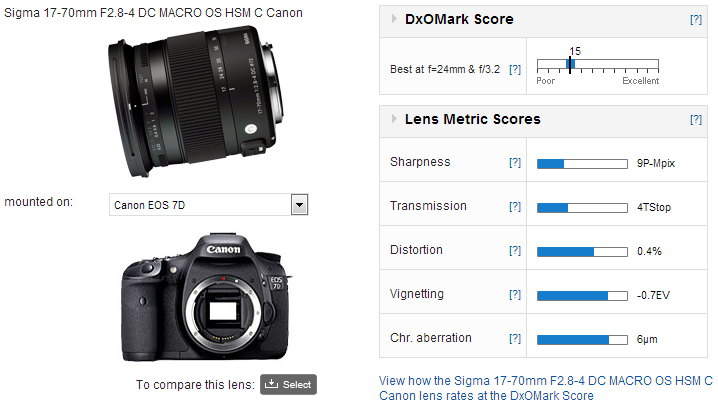 The Sigma 17-70mm has a DxO Mark Score of 15. This makes it the 5th best APS-C zoom lens tested on the Canon EOS 7D. However if you look at the scores in detail, for sharpness it ranks number 3, ahead of any canon APS-C lens. This does exclude all of the immensely good lenses designed to cover full frame 35mm but they generally have a price tag to match the larger format. The score of 15 overall and of 9 P-Mpix for sharpness makes this a very serious contender. Distortion and vignetting at 0.4% and 0.7EV are at the lower end of the range of scores in this group, transmission differs from the stated value by just under 0.5EV which is on a par with other lenses of this type and chromatic aberration is well controlled, better than most.
Further readings for the Sigma 17-70mm f2.8-4 DC Macro OS HSM C Canon review - The Above 'Standard' Zoom
To provide photographers with a broader perspective about mobiles, lenses and cameras, here are links to articles, reviews, and analyses of photographic equipment produced by DxOMark, renown websites, magazines or blogs.
---
Comments
Added by

Mato34

| March 03 , 2013

Regarding three versions of Sigma 17-70

I'm a Nikon user, and got my Sigma 17-70/2.8-4.5 (first version) when bought my D300.

I was really happy and amazed of how sharp could be that lens, and even I got the Nikon 16-85 VR only to sell it some time later because I liked way more the microcontrast and clarity of the Sigma.

Then the 17-70 OS version showed up, and being so happy with the first version I bought this OS one. But I was shocked because results weren't so good. Tried three copies, and below 35-50 mm field curvature was really a problem even at f/8: focus on the center and get blurried sides, focus on sides and get blurried center. It was so heavy that I almost couldn't believe it, but I was seeing it... A couple of years ago I could test a new sample from a friend that didn't show that field curvature (???), but anyway results weren't that good, my old 2.8-4.5 was still better on corners closing at f/5.6 than the OS at f/8.

And now here comes this C version, and again I'm quite excited about it. Well, not that much now, because when comparing measurements of the three versions at 17 and 24 mm I can see that the first one still delivers sharp corners, but not so the OS nad C versions.

Can wait for real samples, but I have liked to see something different at the wide end in the corners.

Saludos!


Reply
---