Sigma 18-200mm F3.5-6.3 DC Macro OS HSM C Canon mount lens review: Worthy upgrade?
By Kevin Carter -
Friday March 28 2014
Lens Review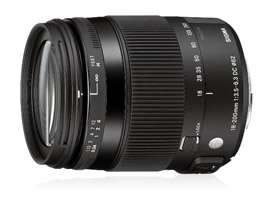 As part of new global update program, Sigma is revamping their complete range. Can this revised APS-C only all-in one compete with rival offerings from the camera maker's? Read on to find out.
As the equivalent to a 28 to 300mm or thereabouts in 35mm terms, APS-C format 18-200mm zooms have become rightfully popular as a lens for all-round use. As a consequence of Sigma's Global Vision strategy this revised version is the latest in a line of lens models from the company dating back to 2005 and features a number of refinements over its stabilized predecessor. Modifications include a reduction in weight and size, whilst maintaining image quality say Sigma.
A double-sided aspherical element has helped reduce the weight, as has a new smaller AF actuator. As a result the new model is smaller by volume (by around 11%) at 3.4 x 2.8 in (86 x 70.7mm) and slightly lighter at 15.2 oz vs. 17.3 oz.
Along with the usual assortment of SLD glass, sonic type AF motor and stabilizer, this 16 element design can focus to just 15.4 in (39cm) with a useful maximum magnification of 1:3. The new model is also compatible with firm's optional USB dock and Optimization Pro software that allows the user to fine tune autofocus amongst other parameters. The Sigma 18-200mm f3.5-6.3 DC Macro HSM C is available now for $399.
Further readings for the Sigma 18-200mm F3.5-6.3 DC Macro OS HSM C Canon mount lens review: Worthy upgrade?
To provide photographers with a broader perspective about mobiles, lenses and cameras, here are links to articles, reviews, and analyses of photographic equipment produced by DxOMark, renown websites, magazines or blogs.
---