Sigma 18-250mm F3.5-6.3 DC MACRO OS HSM review: Update to popular image-stabilized super-zoom
By Kevin Carter -
Thursday December 20 2012
Lens Review
Sigma 18-250mm F3.5-6.3 DC MACRO OS HSM Nikon mounted on Nikon D7000 :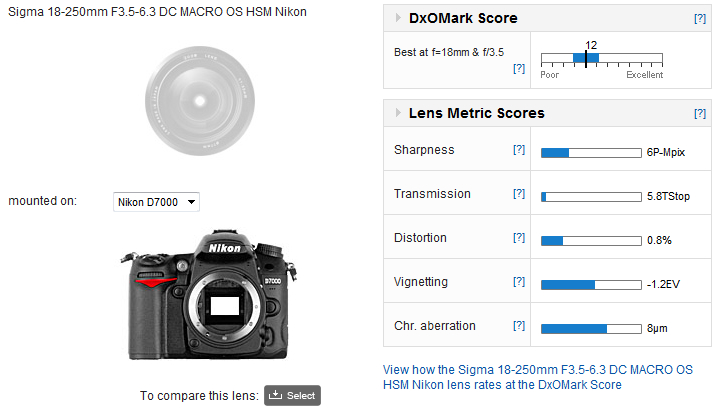 Sigma 18-250mm F3.5-6.3 DC MACRO OS HSM Canon mounted on Canon 7D :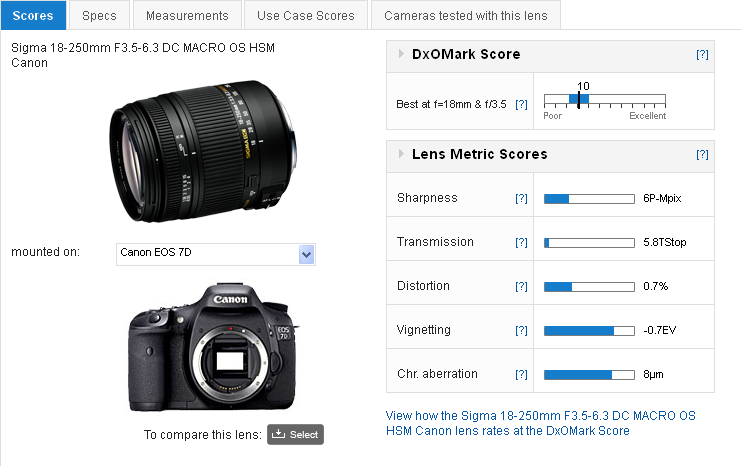 With overall DxOMark scores of 10 for Canon mount and 12 for Nikon mount, variants are very close.
What we're used to seeing with this type of lens is that the optical performance is usually better at the wider end of the zoom range rather than at longer focal lengths and that's true of this lens.
While the results are on the low side, they are good for this category. You can't expect a zoom with an incredible 13x zoom range to match zooms with more modest ranges, such as kit lenses, let alone compete with high-end zooms or primes (i.e., fixed focal length lenses).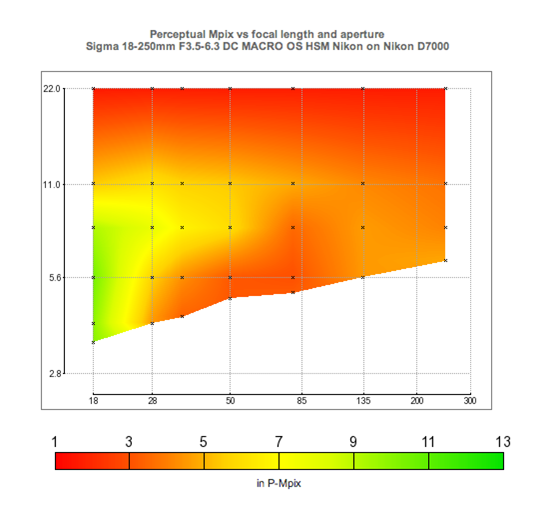 The Sigma 18-250mm has good sharpness at the wider end to f/8 but shows the effects of diffraction from f11 onwards. However, sharpness falls away from 28mm
The Sigma performs best at the wider end particularly at 18mm from f/3.5 to f5.6, which is good news for those looking to use the lens for handheld interiors and landscapes. However, while the Sigma's resolving power at 18mm is highest at wider apertures, sharpness is not uniform over the field. And the latter is also true of longer focal lengths. Sharpness is highest between f5.6 and f8 over the zoom range as a whole, but from our tests the measured acutance of < 50% at the corners of the frame over the 28mm to 250mm range is slightly disappointing. This accounts for the low-ish 6P-Mpix score, but is in fact a pretty decent score for a super-zoom. That said scoring 6P-Mpix, it is bettered by the rival Nikon AF-S DX NIKKOR 18-300mm f/3.5-5.6G ED VR.
Distortion is another concern, and, at an average of 0.8% (pincushion), it's quite noticeable. While we expect to see some barrel distortion at the wider end, which is within acceptable limits in this instance, pincushion is above average over the 28mm to 135mm range of focal lengths. This limits the appeal for taking pictures of buildings that have straight edges parallel to the borders of the frame, but it can be fixed or at least lessened in some software applications, such as DxO Optics Pro.
Vignetting or lens shading can also be issue, although among lenses with relatively slow maximum apertures like this it's often fairly mild. The Sigma is generally well-controlled with the exception of the 18mm f/3.5 and f/4 settings, and again at around 70-to-135mm over the maximum f/5 to f/5.6 apertures. Vignetting can be removed in-camera on some DSLR models, and it's easily corrected in post-production software but it is still good see a maker reduce it as a part of the optical design.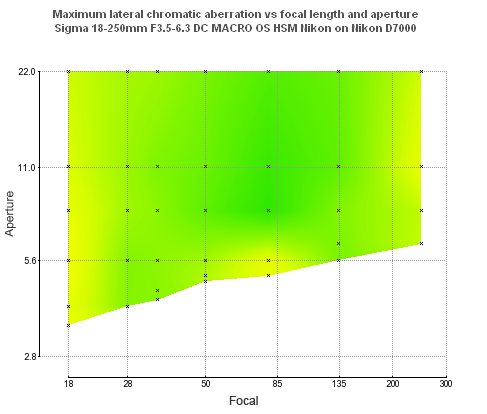 In this graph the lighter areas show where chromatism becomes more problematic in the Sigma. As expected it's mainly at 18mm at wider apertures but there's a some at 80mm and it returns at 250mm
This lens uses a mix of low-dispersion (SLD) glass elements and aspherical lens elements to reduce chromatic aberrations but it appears Sigma reduced the number of SLD elements on price grounds (the new lens adopts a costly double-sided aspherical lens but is around 10-percent less at retail, depending on the country). Chromatic aberration isn't particularly well-controlled at either extremes of the zoom range and at around 70-85mm and is noticeable on high-contrast edges, although to be fair it's at acceptable levels.
Further readings for the Sigma 18-250mm F3.5-6.3 DC MACRO OS HSM review: Update to popular image-stabilized super-zoom
To provide photographers with a broader perspective about mobiles, lenses and cameras, here are links to articles, reviews, and analyses of photographic equipment produced by DxOMark, renown websites, magazines or blogs.
---
---
---
Comments
Sigma 18-250mm F3.5-6.3 DC MACRO OS HSM

Just get the lens last month for my trip to Bangkok and find
very impressive result against the price & quality. Don't
look around if u hv small budget & get it and try out.


Reply
---