Sigma 30mm F1.4 DC HSM A Canon and Nikon mount lens reviews: good all-round performer
By Kevin Carter -
Monday July 15 2013
Lens Review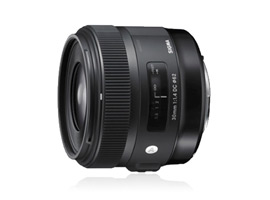 After achieving an excellent reputation for its imaging characteristics, Sigma has revised this popular high-speed APS-C format standard lens, adding it to its high-performance Art line. Read on to see how well this new iteration performs in our labs.
Sigma is reorganizing its lens range in to three product categories; Contemporary, Sports and Art, the latter of which this new model is a part of is reserved for its highest performing lenses. With its angle of view equivalent to a 45mm on a full-frame 35mm camera, the 30mm f/1.4 DC HSM A has been substantially revised with a new optical construction of 9 elements in 8 groups (over the previous 7 elements in 7 groups), closer minimum focus distance of 30cm (down from 40cm) and 9 diaphragm blades as opposed to the earlier iteration's 8 blades. New algorithms are said to improve the AF performance of the built-in ultrasonic type motor, while compatibility with the firm's innovative USB Dock allows focus adjustment and updating of firmware. Lastly, a high quality outer shell and finish has been adopted in accordance with others in the Art line, but despite the improvements, the price remains the same as the older model at $499.
Further readings for the Sigma 30mm F1.4 DC HSM A Canon and Nikon mount lens reviews: good all-round performer
To provide photographers with a broader perspective about mobiles, lenses and cameras, here are links to articles, reviews, and analyses of photographic equipment produced by DxOMark, renown websites, magazines or blogs.
---
Comments
Sigma 30 mm f1.4

This lens should be tested on full frame too. It can be mounted with no modifications and would work on all cameras 100 percent. Just because it is not "designed" for full frame it does not mean it cannot be used on one. And moreover i think it could be legit rival to super expensive 24mm f1.4s


Reply
---
Nikon results surprising

I'm just wondering how the Nikon 1.8 lens can have lower scores than the Sigma 1.4 lens for every lens metric except distortion and yet end up with a higher overall score, 22 versus 21.

This is quite surprising.

Any ideas?


Reply | Read all replies for this comment
First replies for this comment
---
Added by

John1

| July 15 , 2013

Thanks for the review

This review shows me a lot of clear and positive information about this lens.
I have this lens for a few weeks mounted on my Nikon D7000. I also had the Nikon 35mm 1.8g lens. The Sigma lens is way better build and the built-in autofocus motor is much quieter. As I experience it so far, the image quality/sharpness is a little better on the Sigma. Anyway, thanks again for this review, it is just like you describe, Sigma 30mm F1.4 DC HSM A: good all-round performer


Reply
---
Anxious to see results on this one

I have a Canon 7D and am anxiously awaiting the results of DxO testing of this lens on that camera. I want a fast prime in this focal length and just sold my Canon EF 28mm f/1.8 because it wasn't all that great.


Reply | Read all replies for this comment
First replies for this comment
---