Sigma 30mm F2.8 DN A Sony E mount lens review: reliable performance, accessible price
By Kevin Carter -
Monday September 02 2013
Lens Review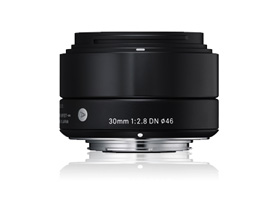 Sigma's range of DN A lenses have been designed for mirrorless cameras using both MFT and APS-C sensors, albeit with different mounts. As the equivalent to a 45mm on an APS-C camera we've tested the 30mm f2.8 on the discerning Sony NEX-7. Read on to find out how well it performs.
With their larger imaging circle we're all accustomed to thinking how full-frame lenses can be used on cameras with smaller APS-C size sensors, providing the mount is compatible, so it comes as little surprise to see Sigma apply that principle to their DN series lenses.
These lenses are designed for mirrorless cameras available with mounts to fit either Sony NEX or the smaller MFT cameras from Panasonic and Olympus. On those cameras the 30mm (please note, we've already reviewed this lens with a MFT mount here) is the equivalent to a short tele (60mm) though on an NEX body using an APS-C size sensor it has a more amenable angle of view, equivalent to a 45mm. It has 7 elements (with 2 aspheric surfaces) in 5 groups, focuses to 30cm and weighs just 130g. It's available now, for $199.
Further readings for the Sigma 30mm F2.8 DN A Sony E mount lens review: reliable performance, accessible price
To provide photographers with a broader perspective about mobiles, lenses and cameras, here are links to articles, reviews, and analyses of photographic equipment produced by DxOMark, renown websites, magazines or blogs.
---
---
Comments
New Art series seems inferior

The Swedish vendor Cyberphoto makes excellent real use reviews of cameras and lenses. Well before DxoMark's review, they found that the Art version was noticeably softer in the corners than the previous EX DN version. http://www.cyberphoto.se/info.php?article=si30mmnex


Reply
---
Weird test of Sigma 30mm ?

I don't believe to this test!
The new Art version of Sigma has absolutely the same optical design as the old version. The old version was tested by Dxomark and got 12-Mpix of sharpness where is the new version by Dxomark gets only 10-Mpix of sharpness. I suppose that there is a mistake or the copy of the new lens which was tested by Dxomark was defective.

The old version test : http://www.dxomark.com/Lenses/Sigma/Sigma-30mm-F28-EX-DN-Sony-E


Reply | Read all replies for this comment
First replies for this comment
---
Re: Weird test of Sigma 30mm ?

Hello,

Thanks for your feedback, here is the comparison:
http://www.dxomark.com/Lenses/Compare/Side-by-side/Sigma-30mm-F28-EX-DN-Sony-E-on-Sony-NEX-7-versus-Sigma-30mm-F28-DN-A-Sony-E-on-Sony-NEX-7___828_736_1102_0
The 2 lenses are very close, a slight difference is noticed on sharpness measurement: the new version is slightly less sharp in the corner.
Results are very close, and should not impact the final image quality.

Best regards,

The DxOMark team



Reply
---