Sigma 35mm f1.4 DG HSM A Canon review: A Prime Example of Lens Design
By Ben Boswell -
Sunday December 16 2012
Lens Review
One of the sharpest lenses, mounted on Canon, ever measured by DxOMark website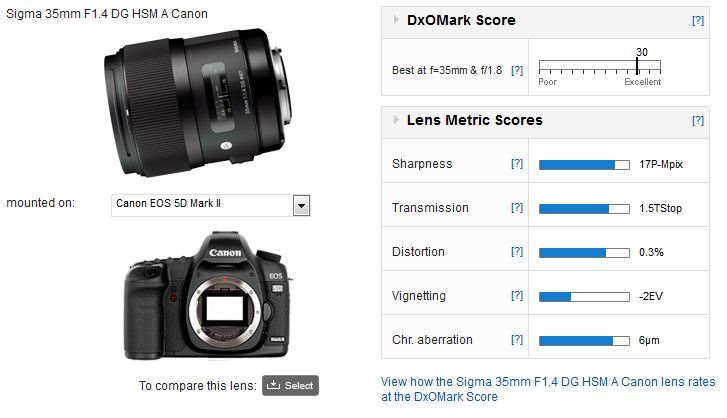 The Sigma 35mm F1.4 scored 17 P-MPix for sharpness and an overall DxOMark score of 30.3 putting it at the top of both of these rankings for a 35mm lens. Taken individually, among the 35mm lenses available for Canon virtually all measures, show the Sigma as the equal or better of the group, its score positions it as one of the sharpest lenses tested by DxOMark on Canon mount.
Further readings for the Sigma 35mm f1.4 DG HSM A Canon review: A Prime Example of Lens Design
To provide photographers with a broader perspective about mobiles, lenses and cameras, here are links to articles, reviews, and analyses of photographic equipment produced by DxOMark, renown websites, magazines or blogs.
---
Lens Review
|
October 18, 2013
| | |
| --- | --- |
| | As the first model in Sigma's high-grade ART series the 35mm f1.4 HSM A set the bar very high for image quality when measured on Canon and Nikon bodies. The lens is also available in Sony mount, and we couldn't resist trying it on the excellent Sony A99. Read on to see how well it performs. |
---
Lens Recommendations
|
April 03, 2013
| | |
| --- | --- |
| | The second in our series of selecting the best-quality lenses for your camera concentrates on one of the most highly-anticipated cameras of our time, the successor to the hugely popular EOS 5D Mark II. But by the time it was announced, in early March, it's probably fair to say Nikon had taken fair amount of interest away by announcing the 36M-Pix D800 and D800E models the month before. Be that as it may, there's no denying the 22.3 M-Pix EOS 5D Mark III is a remarkably capable camera, and a formidable rival to the Nikon. |
---
Comments
I absolutely LOVE this lens

This lens hardly ever leaves my camera, I absolutely love it. Along with the 85mm I can shoot pretty much anything with a 35/85 combo.
http://www.RobGeorgesonPhotography.co.uk


Reply
---
Sigma Art 35mm F1.4 on Pentax K-1

What are the performance of this Sigma Art 35mm on a Pentax K-1 body ?


Reply
---
First replies for this comment
---
Re: Lens For Canon 100D

Hi,

You'll find our lens recommendations for the Canon EOS 100D here:
http://www.dxomark.com/Reviews/Best-lenses-for-your-Canon-EOS-100D-Wide-Angles-Standards-and-Telephotos/100D-best-lenses-prime-and-zoom

Kind regards


Reply
---
Re: Lens For Canon 100D

thank you sohpie!



Reply
---
Newer Canon camera bodies for measurement?

I'm actually very interested to know why the canon lens tests are still based on 1ds Mk 3 or 5D mark II, both of which are quite old models, while Nikon has already started using D800.

Or is DxO expecting very close performance between 5D mk 3 and these models?


Reply | Read all replies for this comment
First replies for this comment
---
Re: Newer Canon camera bodies for measurement?

Hello,

Thanks for your interest in DxOMark.

Your question is very relevant: we are about to review 90 lenses mounted on the Canon EOS 5D Mark III and the results are amazing...

Stay tuned !

The DxOMark team



Reply
---