Sigma 50mm F1.4 DG HSM A Canon lens review: Art for Art's sake?
By Kevin Carter -
Thursday April 17 2014
Lens Review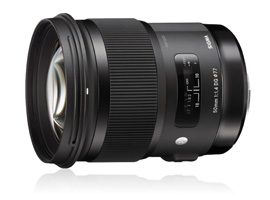 After the terrific performance of Sigma's competitively priced 35mm f1.4 Art model, the new 50mm f1.4 version is finally here. Read on to find out if it can compare with the best of the best.
After the success of Sigma's premium Art-series 35mm f1.4 DG HSM A, the firm is hoping to replicate the achievement with this new model. Aimed unreservedly at enthusiasts this completely revised design has an unusually high total of 13-elements in 8 groups with three SLD (low dispersion) glass elements and one asphere.
This high-end model also adopts a floating system, which optimizes the optical performance at close range – it has a minimum focus distance of 1.3' (40cm) making it particularly suited to a wide-range of uses – environmental portraiture, candid and general-purpose photography.
Autofocus is provided by a sonic type motor for smooth, quiet focusing, while the outer is a combination of the firm's Thermally Stable Composite (TSC) material and metal for durability, though the firm make's no claims for any environmental sealing
With a 77mm filter thread and measuring 3.36 x 3.93" (85.4 x 99.9mm) this model is hardly small and discrete. It's also rather heavy at 1.79 lb (815 g), but on the plus side the price is competitive - it is available for pre-order at $949.
Further readings for the Sigma 50mm F1.4 DG HSM A Canon lens review: Art for Art's sake?
To provide photographers with a broader perspective about mobiles, lenses and cameras, here are links to articles, reviews, and analyses of photographic equipment produced by DxOMark, renown websites, magazines or blogs.
---
---
Comments
My review of this lens vs a Canon 50mm f1.2 L USM

I wrote a review on this lens based on 4 different samples of it, shooting a wedding season, and compared to a Canon 50mm f1.2 L USM here:

http://www.nickenglishphotography.com/blog/2016/3/sigma-50mm-f1-4-art-dg-vs-canon-ef-50mm-f1-2-l-usm-lens-review-comparison

Thanks


Reply
---
Added by

Yairt

| November 07 , 2015

Is there a reason why DXO doesn't reply on this subjects .?

Dear DXO

Please reply on the subject of testing the ART lenses on Nikon body ?

And why in November 2015 you test new canon mount lens on 5D MK III with low res and not on 5DSR with 50 mp?

Please reply
Yair


Reply
---
Added by

Yairt

| August 20 , 2015

Sigma ART on Nikon

Hi DXO,
Why you didn't test any of the sigma art lens on Nikon D810 ( other than the 35mm)
Tests of the 24,50, 24-105,24-35 are needed.
the new Tamron 15-30 is also a very interesting one to test.
Please advice


Reply
---
First replies for this comment
---
Re: TEST IT

Thank you and yes, I also support asking that the Nikon lens be tested. :-X


Reply
---
Re: TEST IT

I was shooting two systems, where I had the Sigma 35 ART for my D810 and the Sony/Zeiss FE 35mm f1.4 for my A7R. I converted to all Sony, so I had Sigma convert the Nikon mount to Alpha mount to use on my A99's.

I recently did a round of testing of both lenses on the A7R (using the LA-EA4 adapter for the Sigma) with flash and a tripod. I realize that DXO rates the Sony lens at 23P and the Sigma at 28P (or 29?), but in looking at 200% crops on a 5K Retina monitor, I can tell you that at f1.4, one would be hard-pressed to identify a significant difference in sharpness. The Sigma is just a hair sharper. Looking at anything less than 100% crop does not reveal any measurable difference. Any difference is likely due to a bit more contrast, wide-open, on the Sigma. Both lenses are amazing.

The Sigma has slightly less CA's, but more vignetting. The depth a field is noticeably narrower with the Sony lens. This actually makes it more difficult to focus on near objects when wide-open. Maybe this is what people are talking about when they talk about "Zeiss 3D".

The major difference is the bokeh. The Sony is a cream-machine, while the Sigma is a bit rougher with slightly nervous bokeh.

If I were to do it over, again, and as much as I love the Sony bokeh, I would probably just buy the Sigma, as it is a lot more cost effective and delivers terrific results. Also, the new A7RII will allow the use of the LA-EA3 (no mirror), so the native camera focusing system can be used with adapted lenses.




Reply
---
Meaningless comparison

The low quality of the Canon camera can't discern whether the lens is an Otus, a Sigma or a coke bottle.


Reply
---
Added by

rsgw40

| November 19 , 2014

When will the Nikon mount be tested?

We have been waiting for Nikon mount test result since 6 month ago, please test this excellent lens at your earliest convinence.


Reply
---
Added by

rsgw40

| November 19 , 2014

When will the Nikon mount be tested?

We have been waiting for Nikon mount test result since 6 month ago, please test this excellent lens at your earliest convinence.


Reply
---
Nikon's sensor

I-m starting to think that if it comes near Otus in terms of resolution on Canon mount(making a score of 21mp on a 24mp sensor), somehow it should be the same on Nikon's 36mp D800 on witch Otus scores 29mp(and more on D800E and D810) .
If it's true (and i-m still waiting for a test on D800) i-l get one.


Reply
---
Added by

mcvmjr

| April 17 , 2014

Wow

Amazing results! I am waiting for the Nikon version test (please test with D800E). Thanks.


Reply
---