Sony 300mm f/2.8 G SSM II lens review: second update to pro-oriented G-series super-telephoto prime
By Kevin Carter -
Monday July 01 2013
Lens Review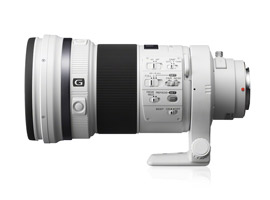 In the lead up to Photokina 2012, Sony announced a revised version of their 300mm f/2.8G SSM adding Nano AR coating and full AF compatibility with the firm's flagship full-frame Sony SLT Alpha 99. Read on to see how well this newly updated lens performs on their new top-of-the-range camera.
As the second most expensive and second longest fixed focal length lens in Sony's line-up, the 300mm f/2.8 G SSM II has been updated to include Nano AR coating, enhanced weatherproofing, and an overhaul of the ultrasonic-type (SSM) adding object tracking during video capture with the hybrid AF system of the Sony SLT A99 (including the 102 AF point phase detection system). The $7,498 price seems rather high given the optical design remains unchanged with 3 ED (extra-low dispersion) glass elements out of a total 13 in 12 groups, and the fact that savings must be made from not having image stabilization (it's not required as SLT cameras adopt a stabilized sensor platform).
Further readings for the Sony 300mm f/2.8 G SSM II lens review: second update to pro-oriented G-series super-telephoto prime
To provide photographers with a broader perspective about mobiles, lenses and cameras, here are links to articles, reviews, and analyses of photographic equipment produced by DxOMark, renown websites, magazines or blogs.
---
---
Comments
Sony overpriced junk

What a piece of junk. Sony better do better and for less money if they want to beat Nikon and Canon. Sigma is doing it.


Reply
---
Sorry - I have to doubt the result of this test...

I wrote this text und the list of Sony lenses tested HERE:

http://www.dxomark.com/index.php/Publications/DxOMark-Reviews/Best-lenses-for-your-Sony-SLT-Alpha-99-22-wide-angle-standard-and-telephoto-models-analyzed/Best-Prime-for-your-Sony-Alpha-99


Hi,
from my rather long experience with the predecessor, the still "current" 300/2.8 SSSM, there has to be a mistake in the testing of the new Sony lens - it will not be worse than the old version (or will it?).
And the current 300/2.8 SSM is at least on par with the Zeiss 85/1.4 AF or the 135/1.8 AF which I use, and a lot (and I mean: A LOT!) sharper than the Sony 35/1.4, for example - it is one of or even the best lens(es) in the Sony system. For an impression, just look at Sony´s MTF charts.
Almost everybody in the Sony forums who has access to that lens says the same... - so could there have been a mistake in the testing?

A focus problem or a "faulty" lens, for example?

I would LOVE to see a retest with a second item - Sony company should be interested in putting the result right and proving the 300/2.8 SSM to be the "stellar" lens it is... - the current version is indeed!
Thank you,
Ruediger


Reply | Read all replies for this comment
First replies for this comment
---
Re: Sorry - I have to doubt the result of this test...

Hello!

Thanks for your interest in DxOMark.

Sony lenses we analyzed were provided by Sony itself. About your remark on the 35mm f/1.4, analyzer results confirm what you noticed (please check the comparison here Sony 300mm vs 35mm f/1.4).
If you only look at the Sharpness score, the 300mm is far higher rated than the 35mm f/1.4. However the DxOMark score is performed lowlight. In such condition, the larger aperture of the Sony 35mm f/1.4 enables a lower noise on the SLT A99 sensor. That means that you will finally get a similar IQ on both couples: on one side (300mm), you have a sharp image but with an higher level of noise, on the other side, the image is softer but without noise.

Best regards,

The DxOMark team


Reply
---