Sony 70-400mm review: one of the sharpest super-zooms for wild life photography
By Kevin Carter -
Tuesday May 07 2013
Lens Review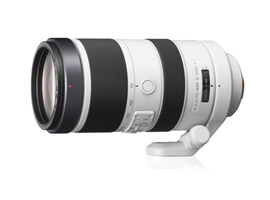 Announced only in February this year alongside the Sony made Zeiss branded 50mm f/1.4 ZA SSM, the 70-400mm F4-5.6 G SSM II lens is an upgrade to the original silver finish model introduced in 2009. This new lens is said to boast up to 4x increase in AF operation and an improved optical performance (not to mention a new white exterior). Read on to see how well it performs in our labs.
Although this lens doesn't bear the high-end Zeiss logo, this is a G-series lens indicating that the 70-400mm F4-5.6 G SSM II is a premium quality model for professional and advanced amateur use, much like Canon's L-series. While it's a full frame lens with a tempting range of focal lengths, it is more likely to appeal to users of the firm's APS-C SLT cameras where it's the equivalent of a 105-600mm. As a result, this is a very promising lens for wildlife photographers.
Further readings for the Sony 70-400mm review: one of the sharpest super-zooms for wild life photography
To provide photographers with a broader perspective about mobiles, lenses and cameras, here are links to articles, reviews, and analyses of photographic equipment produced by DxOMark, renown websites, magazines or blogs.
---
Partner reviews
|
May 29, 2013





The comparison between the Nikon AF-S Nikkor 80-400mm f/4.5-5.6G ED VR and the Sony 70-400mm F4-5.6 G SSM II is also rather interesting. Despite the Sony being tested on lower resolution bodies (the 14MP A380 vs the 18MP D7000 for APS-C, and the 24MP A900 vs the 36MP D800 for full frame), which in principle should place it at a disadvantage in these system tests, it measures up very well indeed….

Read the article

---
---
Comments
Added by

dakos

| May 13 , 2016

Results with newer bodies...

Hello DxOs,
Since the bodies you tested this lens are not what is relevant for purchase these days, but the lens is still pretty unique, I would really like to see it tested again with the A7R II and the a6300. To me these are the top most interesting cameras today.
Thank you for all the great work.


Reply
---
Added by

THKPIC

| July 28 , 2013

Sadly true.

I've been waiting on this lens. I currently shot on the long end with a minolta 500 f8 reflex. It can be fantastic in broad daylight, but that's a crippling factor most of the time. I'm not surprised to hear about the optics being a mild improvement over the former. In fact, they've talked up the SSM motor upgrade more than anything. If it was a major leap in optical quality you'd be hearing about it from Sony. The biggest problem with the current 400mm is the weird Bokeh at 400mm and drop in sharpness. Here's the skinny:

No AF with a teleconverter- anyone looking to nail birds all day long with this will definitely be using a 1.4 along with the lens. Makes that SSM worthless at that point.

70-200 IMO is worthless on a lens at this price point. Your just not using that length all that often.

I want this for ease of use. But, I think I'm still going to eye up a minolta 300 2.8. And thats the problem, I only care about the 300-400 range on this. It needs to be compared to the minolta 300 2.8 or the 200 2.8 which has already been proven to be sharper with a 1.4 tele than the 70-400 at 400mm.


Reply
---
Testing on outdated bodies

I can't believe you would test a brand new lens that has not even hit store shelves yet on old discontinued cameras! I've owned many of those camera models on my way up to my current A77 and there is no comparison in image quality. I can't imagine many people in the market for this lens would still be using it on any of these old cameras. The test results would not only be more accurate but I am sure the lens would have better results on the new cameras. I am going to check your Nikon 80-400mm lens tests and see if you tested it on old discontinued cameras too. In the interest of fair comparisons I hope you did.


Reply | Read all replies for this comment
First replies for this comment
---
Error in Sony 70-400mm results

There seems to be an error in the sharpness results for the Sony 70-400mm with the A580 body. It shows sharpness at only half of what the A380 body has, even though the A580 has more MP. Someone should look into these results.


Reply | Read all replies for this comment
First replies for this comment
---
First replies for this comment
---
Is it updated optics?

I have not heard elsewhere that the optics were updated, I'm curious to know the source. If so, comparing to the silver edition is critical (and, as GeminiRx mentions, on an A77 and A99 would be appreciated.) I love my silver 70-400 so much, and have been mildly considering an upgrade. If the (already stellar) optics are improved, I'm sold!


Reply
---
Testing on a outdated body

It would be nice if the testing of A mount lenses could be done on the A99 instead of the A900. The A900 has been around since 2008.


Reply | Read all replies for this comment
First replies for this comment
---