Sony A6000 sensor review: Little wonder
By Kevin Carter -
Wednesday April 09 2014
Sensor Review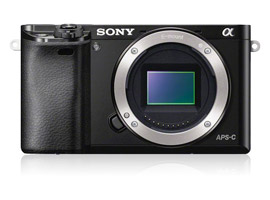 The Sony Alpha A6000 is a revision of the earlier NEX-6 featuring a new 24-Mpix APS-C sensor and on-sensor phase-detection AF with improved coverage. Read on to find out how the new model performs.
Sony's re-branding of the APS-C NEX mirrorless models as Alpha has presented an opportunity to realigned the range. Although the new A6000 announced in February this year features a 24-Mpix CMOS like the technically still current NEX-7 it is seen as a replacement to the newer NEX-6.
Like that model it has dedicated on-chip phase-detection AF pixels (in addition to the usual contrast detection) although the A6000 can boast 179 AF points covering a greater area, up from 50-percent of the frame on the NEX-6 to just over 90-percent.
The Exmor type 24-Mpix APS-C CMOS sensor is a development of the device used in the NEX-7 using a similar gapless micro-lens structure as that found on the 36-Mpix full-frame sensor used by the full-frame A7R. The latest Bionz X level processor allows AF with continuous shooting at up to 11 fps and ISO sensitivity to a maximum ISO 25,600 for stills or ISO 12,800 for movies.
Like the NEX-6 and 7 it has a built-in EVF albeit with 0.39-inch lower resolution 1.44M dot OLED screen (down from 2.36M dot on the NEX-6) and a 3.0-inch 16:9 ratio, 921k-dot tilting LCD at the rear. Images can captured and shared using the on-board WiFi with NFC capability with suitably equipped smartphones.
Some slight improvements in video over its predecessor include the adding of a zebra-pattern display capability to aid exposure control and an uncompressed 1080i/p AVCHD video at 24/ 50/60 fps via HDMI in addition to the usual in-camera capture option.
The Sony Alpha A6000 is available in body only for $649 with a black or 'titanium' finish, or with the standard 16-50mm kit lens at around $799.
Key specifications
24-Mpix APS-C Exmor CMOS sensor
11 fps continuous shooting
Hybrid AF with wide coverage using 179 phase-detection points
0.39-inch 1.44M dot OLED EVF
3.0-inch 921k-dot Tilting LCD
Wi-Fi connectivity with NFC
Full HD 1080i/p AVCHD video at 24/ 50/60 fps
Multi-interface shoe
Further readings for the Sony A6000 sensor review: Little wonder
To provide photographers with a broader perspective about mobiles, lenses and cameras, here are links to articles, reviews, and analyses of photographic equipment produced by DxOMark, renown websites, magazines or blogs.
---
---
---
---
Comments
Baffling lack of updates to this list

A few people have pointed out that the Sony Vario-Tessar T* E 16-70mm F4 ZA OSS is a fine lens. What confuses me is that it has been tested on this site and, by this site's metrics, outperforms almost everything on this list.

What is the point of having a list like this when potentially the most useful high quality lens isn't given the time of day? If this list was to be taken on face value then I'd be left thinking that the kit lens is a better option.

anyway; for those that are looking here's the test of the vario-tessar

http://www.dxomark.com/Lenses/Sony/Zeiss-Carl-Zeiss-Vario-Tessar-T-STAR-E-16-70mm-F4-ZA-OSS-Sony-E-mounted-on-Sony-A6000__942

it scores a very respectable 17 (putting it at number 2 on this list)with 8 P-Mpix resolution (which is pretty much as good as we're getting with a zoom at the moment)


Reply
---
Nikon VS Sony

Hi,

I have the Sony A6000, yesterday bought the Nikon D5300 because I finally decided to have some better optics.
So, I bought the 18-35 1.8 Sigma and 85mm 1.8 Nikon lenses as suggested by you:
http://www.dxomark.com/Reviews/Best-lenses-for-the-Nikon-D5300-Part-1-concise-overview-of-primes-and-zooms

I am dissapointed, the Sigma 60mm for Sony NEX/Alpha is SO MUCH SHARPER than both of the lenses for Nikon.

How could this be possible? What's going on? Can I send you some sample photos?

I spent 1500€ just because of your recommendations believing I was going to get something REALLY GOOD.

Well, there is the possibility the equipment is defective, but not ALL THREE (camera and two lenses).

Tested the Sigma 18-35mm on all apertures, lowlight/plenty of light (never sharper than the Sony Sigma at all apertures, focal length taken into consideration) - Nikon also (never sharper than the Sony Sigma even at F7 which was the sharpest setting for the Nikon lens).

Also, tried all different camera settings...

Is there any way I could mail you sample photos?

Regards.


Reply | Read all replies for this comment
First replies for this comment
---
Test of Sony Lens E PZ 18 - 105 mm F4 G OSS

May you also test the "Sony Lens E PZ 18 - 105 mm F4 G OSS" which seems a very good lens on paper?
Thanks


Reply
---
How about the Rokinon 12mm f/2.0 NCS CS?

This a little hiden gem. Rokinon 12mm f/2.0 NCS CS is as sharp as the Touit 12mm for E-Mount from edge to edge.
Please consider its review.


Reply
---
Test 16-70 f4 Zeiss already!

How long we have to wait - this is just not fair. It's been so long since we asked and asked, but no test came yet. Please do test the best zoom in APS-C lens lineup. The single lens to rule them all.


Reply
---
Sony ILC Cameras

I have a question that has been bothering me for ages about Sony and their mirrorless ILC cams. Why are all the lenses on these cameras so low on sharpness? It can't be blamed on all the lens makers including Zeiss who makes some of the finest lenses out there. Is it because of the flange distance on ILC's is much closer then a mirrored DSLR? Is this causing lenses to lose their ability to come close to utilizing more of the sensors pixels?

I am a canon user but am seriously considering changing over to the Sony A7R or A7. I absolutely love the new sensors they are making and think the A7 line and the A5000/6000 are incredible cameras. After reading about the best lenses for the Sony A6000 the highest sharpness on any lens is the Sigma 60mm F2.8 DN A Sony E at 16 mpix. Thats only 16 of the 24 Mpix sensor. Lenses should be able to utilize more of the pixels (especially the prime) and the rest of the lenses just utilize less and less. Now if you look at the Sony FE 70-200 F4OSS on the A6000 the sharpness is 11mpix on the 24mpix sensor and that same lens on the A7R is 23 Mpix of 36 mpix. This is very low especially especially since this is only 2/3rds of the A7R camera.

Maybe DXO can explain why these ILC's by sony are suffering on sharpness? Atleast staying with Canon utilizes more sharpness, but bringing those lenses over with converters could be an issue all on its own as changing the flange distance to the sensor can cause issues on a camera.

Cheers


Reply | Read all replies for this comment
First replies for this comment
---
Added by

D Horn

| December 21 , 2014

zoom lenses for sony alpha 6000

Like many other, I am eagerly awaiting a report on the Tessar 16-70, which I suspect may be the best lens for the camera. I have a 24-105 L lens for my Canon 5DII, which has the same range, and I use it for over 90% of my photos.
I am prepared to spend extra for the lens I use most.
Also I would like to see a test for the Sigma 8-16 on the alpha 6000. usingthe A to E mount adaptor. I have an older Sigma 12-24 zoom on my 5DII, which again is a similar range. I love the coverage of this lens, but is is not sharp at the edges.
I have seen some good reviews of the 8-16, but I am wary.
Please!!!


Reply | Read all replies for this comment
First replies for this comment
---
Added by

dushash

| December 11 , 2014

Huge omission - where's 16-70 f4 Zeiss lens?!

The most versatile lens in APS-C lineup is missing. Is this some kind of joke? The most important lens among zooms is not here!!! What's going on? I really hope this is just a mistake that you guys are going to correct the first thing ASAP. Without this lens this whole review is useless.


Reply | Read all replies for this comment
First replies for this comment
---
Added by

akrow

| November 30 , 2014

most important zooms missing: 18-105 and 16-70

It is very unfortunate that the results for two very interesting zooms are missing: the sony 18-105 and zeiss 16-70. I'd love to see these test results.




Reply | Read all replies for this comment
First replies for this comment
---
Added by

Hazza

| November 29 , 2014

Important onission CZ Vario Tessar - E 16-70 /f4

Why have you never bothered to review this lens? Some strange politics going on me thinks. I bought this when it first came out (for my Nex-7) and have never regretted it. Supurb zoom lens - equivilant to full frame 24-105.
Has turned my Nex-7 into a serious camera - as it would for any a6000.
(Apart from the Sony E 10-18mm f/4 which is actually quite good, all the APSC lenses you've mentioned above are rubbish - except for video use - and I've tested them all.)
I really don't get you guys.

http://www.dxomark.com/Lenses/Carl-Zeiss/Zeiss-Carl-Zeiss-Vario-Tessar-T-STAR-E-16-70mm-F4-ZA-OSS-Sony-E


Reply | Read all replies for this comment
First replies for this comment
---