Sony A7s II sensor review: Low-light performance redefined
By Kevin Carter -
Thursday December 10 2015
Sensor Review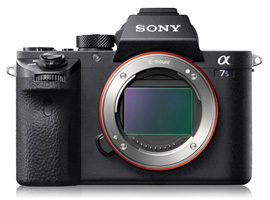 The new Sony A7S II is the upgrade to the A7S and offers ultra-high sensitivity up to ISO409600 and 5-axis stabilization in what promises to be an impressive available-light camera. In addition, the A7S II builds on its predecessor's video credentials, adding 4K (UHD) internal and Full HD video up to 120 fps. Read on to find out how well the sensor in this new model performs.
Specifications and Features
The Sony A7S II is the not-unexpected update of the earlier video-centric 12-Mpix A7S. Like its predecessor, it adopts a full-frame 12.2MP Exmor CMOS sensor, but now boasts 5-axis stabilization and internal UHD 4K recording at 30 fps with full pixel read-out (without pixel-binning). In addition, there's 1080p recording at up to 120 fps (for slow-motion footage) and all in XAVC S format. Picture Profile settings have been redeveloped, adding S-Gamut3.Cine/S-Log3 and S-Gamut3/S-Log3, which deliver what the company claims ("wide dynamic range and simple color correction") and complement the camera's 4K recording capabilities.
The BIONZ X image processor enables increased sensitivity to ISO 409,600, continuous shooting to 5 fps, Fast Intelligent AF with 169 points, and low-light sensitivity to an impressive –4 EV. The A7S II adopts the distinctive industrial design of its predecessor and features a 0.5-inch 2.36m-Dot XGA OLED Tru-Finder EVF and a 3.0-inch 1.28m-dot tilting LCD to the rear.
The new A7S II measures 5.0 x 3.78 x 2.36" / 127 x 96 x 60mm and weighs 22.12 oz / 627g, body only. It's available now with a body-only price of $2999 (USD).
12.2MPix Exmor CMOS
BIONZ X image processor
5-axis stabilization
Internal 4K/30p and 1080/120p video
New S-Gamut3.Cine/S-Log3, S-Gamut3/S-Log3 profiles
0.5-inch 2.36m-Dot XGA OLED Tru-Finder EVF
3.0-inch 1.28m-dot tilting LCD
Expanded ISO 409,600 max sensitivity
5 fps continuous shooting
Built-in Wi-Fi connectivity with NFC
Further readings for the Sony A7s II sensor review: Low-light performance redefined
To provide photographers with a broader perspective about mobiles, lenses and cameras, here are links to articles, reviews, and analyses of photographic equipment produced by DxOMark, renown websites, magazines or blogs.
---
---
Comments
Added by

Maxone

| April 05 , 2016

High ISO a7s vs a7s ii

Just read here, https://www.cinema5d.com/ultimate-sony-a7s-ii-vs-a7s-test-difference/
Sony a7s ii is much better in low light high iso test comparing to a7s. DXOMark test results are only mathematical, in real life result look much different.


Reply | Read all replies for this comment
First replies for this comment
---
First replies for this comment
---
It is a Video Camera

I'm not sure why people are so hung up on the score. This is a video-centric camera.

As a video camera it far exceeds the capabilities of the A7r mkII in every way. The a7r ii is only usable to a MAXIMUM ISO of 12k, whereas this camera is nearly usable at 51k ISO. I own both, but for different reasons. It exceeds the a7s mkI as a video camera as well. It shoots internal 4k and has internal stabilization. These are no small achievements.

For reference I have a Panasonic GH4, which shoots awful photos in my opinion but decent video in well lit situations, and a Nikon d800 which is fantastic for still images. I actually prefer the photos that come from my A7s mkII versus the D800, it renders great colors and shadow depth, they just seem more eye pleasing. That is why I bought the A7r mkII, which is amazing for still images, and better than a GH4 for video.

Bottom line, sensor scores and data don't tell the whole story.


Reply | Read all replies for this comment
First replies for this comment
---
Added by

kalimaa

| December 12 , 2015

How come?

I'm using an A7s for astrophotography and have been determined to make the switch to an A7s II. Very disappointed ... It's my understanding that the sensor has not been modified between Mark I and II. What are your thoughts regarding the cause of this high-ISO performance difference? Is it something software? Can it be due to manufacturing variation? Or has the sensor still been modified in any way?


Reply | Read all replies for this comment
First replies for this comment
---
Hrm?

How does the A7S II "redefine low light performance"?

These results should be viewed as disappointing. In low light, the original A7S outperforms the A7S II!


Reply | Read all replies for this comment
First replies for this comment
---
First replies for this comment
---