Sony Alpha 7R review: Highest ever full-frame image quality?
By Kevin Carter -
Thursday October 31 2013
Sensor Review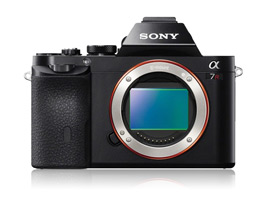 The Sony Alpha 7R is the most expensive of the two full-frame Alpha 7 mirrorless models announced earlier in the month. Externally the two share the same body and much of the same feature set, but, where the A7 adopts a 24-Mpix sensor with on-chip PD-AF capability, the Alpha 7R has a 36-Mpix CMOS sensor without an optical low pass filter for optimal image sharpness. Read on to see how well the sensor in this new model performs.
The Sony Alpha 7R is the higher-end, higher-pixel count version of two new compact full-frame mirrorless cameras from Sony to feature the firm's existing E-mount.
The two models share the same body and many features and differ really only by their sensor. The more modestly priced of the two, the Alpha 7 has a 24-Mpix sensor but with the added capability of phase detection AF afforded by an on-chip pixel array.
The A7R on the other hand has a full-frame 36-Mpix sensor without an optical low pass filter for optimal resolution and image sharpness but lacks the faster focusing of its more modestly priced sibling.
Both models accept existing APS-C format E-mount lenses, albeit with the inevitable cropping. However, to take full advantage of the larger sensor, Sony has introduced a range of new full-frame F-E lenses.
Sony DSLR users need not feel left out either, as the camera is compatible with existing A-mount full-frame and DT (APS-C) lenses using an optional adaptor. Along with a new Bionz X processor, the two metal-bodied cameras feature a 3-inch tilting rear LCD, XGA OLED electronic viewfinder, 1080/60p video, WiFi with NFC and a multi-interface accessory hot-shoe. Availability is expected the beginning of December, and will priced at $2,299 for the A7R, while the A7 will set you back $1,699.
Key specifications:
36-Mpix Full-frame CMOS sensor
No Optical Low-Pass Filter
Gapless On-Chip Lens Design
BIONZ X Image Processor
Compatibility with all E-mount Lenses (and A-mount with adaptor)
3.0-inch Tilting TFT LCD (1,229K-Dots)
2.4M-Dot OLED Electronic Viewfinder
Full 1080/60p Video with Remote Capture
Built-In Wi-Fi and NFC
Multi-Interface Accessory Shoe
Further readings for the Sony Alpha 7R review: Highest ever full-frame image quality?
To provide photographers with a broader perspective about mobiles, lenses and cameras, here are links to articles, reviews, and analyses of photographic equipment produced by DxOMark, renown websites, magazines or blogs.
---
---
Comments
Added by

Arterj

| June 15 , 2015

A-mount leses

Do you still planning to test A-mount lenses?


Reply
---
Added by

exray

| May 16 , 2015

Sony A7R maximum dynamic range at what Iso?

Hi there,
I did not find information at what iso the impressive dynamic range was measured - is this the same for all cameras tested?
Best wishes !


Reply | Read all replies for this comment
First replies for this comment
---
First replies for this comment
---
Added by

FER

| May 27 , 2014

fer

I have read that there are problems of slack in the balloneta
by putting the objectives.
Is this true??
Regards


Reply
---
comparative test of Sony A7R + Zeiss Otus 1.4/55

I just purchased the Zeiss Otus 1.4/55 together with a Sony A7R 36 Mpixels full frame in order to get the best of the two.
Results are outstanding, and fulfill my expectations in terms of resolution for "immersive panoramas".
I made test comparisons versus my Canon 5D markII with the EF 2.8/24-70 L and the EF 1.4/50.
Results are available at: http://www.motherearthimpressions.com/-/galleries/blog/welcome-otus



Reply
---
Added by

mangoja

| February 19 , 2014

Sony A7R

Hello,
More than a month ago you said: "Sorry but the first test will be only for Sony FE lenses. Then, if we have time we will add Classic Alpha Full Frame lenses." When are you going to test them? It's hard to pick having only 2 lenses tested on Sony A7R. There many lenses to choose from like Sonar 24 f1.8, Distagon 24 f2, Sony 35 f1.8 or 135 f2.8, etc.



Reply | Read all replies for this comment
First replies for this comment
---
How does Sony rate so high when they don't have 14 bit color?

http://diglloyd.com/blog/2014/20140214_1-SonyA7-artifacts-star-trails.html


Reply
---
A7 A7R Facebook Group

https://www.facebook.com/groups/AlphaA7/


Reply
---
Mix and Match lens testing

I know this is somewhat unrealistic to ask, but do you think the DxOMark team at any point will test this camera with different lens manufacturers (Canon, Nikon, Zeiss) with an adapter (say the metabones system)? Right now we can kind of gauge Nikon glass with the D800, but since the A7R's sensor rating is such an increase over any of Canon's products--we only get a general idea of how it would perform. I think the real plus of this camera is not the overall size of it, but the lack of restriction we now have taking the best lenses from the other major players. Just curious, how they combine with the A7R. Thanks!


Reply | Read all replies for this comment
First replies for this comment
---
Added by

PWRUSS

| December 23 , 2013

A7R - Canon, Nikon, Olympus, Sigma, Tamron test results

I have had my A7R for 3 weeks and used for tests and real world shooting, inc. night photography. Its not an action, street or holy place camera, too slow and noisy, but excels for landscapes / city scapes-love the DR, colour, resolution and handling. Big problem, which may be a rubbish adapter - Canon 15mm feye, Samyang 14 and Canon 17-40 very, very poor left hand edge, but right side fine. Any lenses 24mm plus fine. Exceptionally good results with Canon 40mm, 50mm F1.8II, Samyang 35mm, Canon 24-105L, Canon 70-200L IS, Canon 70-300IS, Tamron 70-200 F2.8 (non-VC), Nikkor 55-200 DX (full frame!), Nikkor 10-24 (APC mode only). All Nikon Dx lenses work fine in APC mode. Sigma 150-500 works with good IQ and OS, no AF. In fact, only AF on Canon 40mm and 70-200L, fails or rubbish in the rest. Not a full replacement for my 5D mkII or Nikon D7100, but for slow, tripod based photography 24mm + is amazingly good. Hope to get better ultra wide angle results in the future with new adapter, but suspect may need to wait for Sony FE. Oh, little Olympus 28mm f3.5 works, but not especially sharp but nice and even across the frame. Would like to see Voitlander wide angle results, anyone? Or experience with Canon 17-40mm?


Reply
---