Sony Carl Zeiss Distagon T* FE 35mm f1.4 ZA lens review: Razor-sharp German precision
By Paul Carroll -
Monday May 11 2015
Lens Review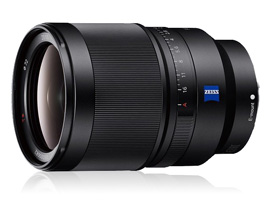 We continue our optical analysis of Sony's latest FE-mount lenses, this time examining the performance of the $1598 Sony Carl Zeiss Distagon T* FE 35mm F1.4 ZA. A professional-grade "fast" aperture wide-angle prime, the new lens is specifically designed for use on Sony A7 hybrid cameras. Including three aspherical lens elements and Zeiss T* coatings for enhanced image quality, let's hope for great results as we run though our industry standard tests.
Sony Carl Zeiss Distagon T* FE 35mm f1.4 ZA: "Stepless" aperture control for video
The Sony Carl Zeiss Distagon T* FE 35mm f1.4 ZA (FE 35mm f1.4) isthefirst FE-mount lens to offer a maximum f1.4 aperture, making it a good option for low-light shooting. The aperture ring on the lens barrel has two settings: "with clicks" for still photographers or "smooth" for silent operation during video capture. The FE 35mm f1.4 also offers quiet autofocus performance, thanks to Sony's DDSSM motor, but there's no image stabilization available on this wide-angle prime.
The FE 35mm f1.4's aperture blades are of the circular variety to create attractive background bokeh effects, and the lens offers a minimum 12-inch focusing distance for close-up photography. The lens itself is also dust- and moisture-resistant, but as the A7R body isn't marketed as fully weather-resistant. it'd be wise to exercise some caution in wet or dusty environments. Although the FE 35mm f1.4 is optimized for use on Sony full-frame hybrids, it's also compatible with such APS-C models as the A5000, where it offers an equivalent 52.5mm focal length.
Key Specifications & Features
Lens Mount: Sony FE (E-mount)
Focal Length: 35mm
Max Aperture: f1.4
Filter Thread: 72mm
AF Motor: DDSSM
Image Stabilisation: No
Length: 112mm
Weight: 630g
Further readings for the Sony Carl Zeiss Distagon T* FE 35mm f1.4 ZA lens review: Razor-sharp German precision
To provide photographers with a broader perspective about mobiles, lenses and cameras, here are links to articles, reviews, and analyses of photographic equipment produced by DxOMark, renown websites, magazines or blogs.
---
---
---
---
Comments
test rhe other bodies

And in the A7 please


Reply
---
Please test rhe other bodies

Hey guys, I know that you're on the Nikon payroll, but could you please test the Sony lenses on the A7 II and the A7R II sensors?


Reply
---
Zeiss v. Sigma

<div id="linkdxomark">This a comment for <a href="http://www.dxomark.com/Lenses/Sony/Sony-FE-Carl-Zeiss-Distagon-T-STAR-35mm-F14-ZA">this page on the website</a></div>

This Distagon 35mm 1.4 Zeiss have a same Score + Sharp on the Sony A7R and the Nikon D810 (36 mpx).

The SIGMA 35mm 1.4 is EXCELLENT on the Nikon D810. I wan't this Sigma 35mm 1.4, E-mount for A7R (Full frame).

No adaptor for me ???

Please sigma, Sony...




Reply
---
vs Sigma 35/1.4 Art

At the time of writing, there is a test with the A7r too, and the result is 23 P-Mpix (vs 30 P-Mpix of the Sigma on a D810). I really hoped Sigma's ingenious conversion service would have covered a FE conversion too, as I already have the 35/1.4 Art for Nikon and I'm thinking about switching systems... Such conversion would cost me nothing as opposed to switching to this Zeiss which is a lot more expensive AND it's worse in quality (especially f1.4 up to f/2.0)...


Reply | Read all replies for this comment
First replies for this comment
---
Added by

Crowag

| June 20 , 2015

Re: vs Sigma 35/1.4 Art

I have the sony alpha version of this lens and have been using it on my A7r with the LA4 adaptor. The result are great!
I'm sure that your version would be just as good


Reply
---
Added by

DBM

| May 16 , 2015

This lens v. Sigma

I see that this lens plus A7r produces better sharpness than the Sigma 35 on D800, but worse than the Sigma on D800e. In order to guess how the Sigma would perform on the A7r it would be good to know how it compares for sharpness to those sensors, but you have tested no lens on both the A7r and the Nikon 800 cameras. Any plan to do that, or any opinion about the relationship between those sensors in terms of sharpness?


Reply
---