Sony Cyber-shot DSC-RX1R Review: pushing the limits?
By Kevin Carter -
Friday August 23 2013
Sensor Review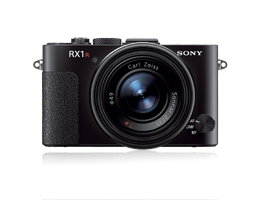 Following on from the unexpected buzz surrounding the original RX1 full-frame compact from Sony with its fixed focal length Zeiss 35mm f/2 lens, the firm has now introduced a follow up with a modified sensor and image processing engine. Read on to find outhow well the new RX1R performs in our labs.
After the initial excitement of the RX1 with its full-frame 36x24mm CMOS sensor and high-quality Carl Zeiss 35mm f/2.0 lens the firm recently revealed a new model, the RX1R. Whereas the original model featured a 24.3 Mpix CMOS sensor with an OLPF (optical low pass filter) this new variation to the range lacks the filter for improved resolution and image sharpness, without any blurring or dispersion it's claimed. Sony also states the camera's image processing has been optimized for sharpness and that that moire and color artifacts may be visible as a result under certain conditions. Be that as it may all other aspects of the camera's features including the small size 113 x 65 x 70 mm (4.45 x 2.56 x 2.76″), weight 482 g (1.06 lb / 17.00 oz)and price of $2,799 remain unchanged.
Further readings for the Sony Cyber-shot DSC-RX1R Review: pushing the limits?
To provide photographers with a broader perspective about mobiles, lenses and cameras, here are links to articles, reviews, and analyses of photographic equipment produced by DxOMark, renown websites, magazines or blogs.
---
---
Comments
Anti Fuji Bias

Well I've owned this camera as well as the Nikon 750 and I get comparable if not better results from a Fuji XPro 2 and XT2. Why are you not rating these?


Reply | Read all replies for this comment
First replies for this comment
---
Not sure you tested the right Sony RX1R

RX1R worse than the RX1? Are you certain you tested the right camera? Even your title for this report is incorrect. "Sony Cyber-shot DSC-RX1 Review: pushing the limits?"


Reply | Read all replies for this comment
First replies for this comment
---
Sony Rx1

Great idea for a P&S with a Full Frame Sensor but at that price point why not have interchangeable lenses? I feel the EVF for an additional $400 is a joke - some use an Olympus viewfinder on it (see steve huff photo )


Reply
---