Sony Cyber-shot RX1 / Carl Zeiss Sonnar T* 2/35 review: Is this the ultimate moderate wide-angle lens?
By Kevin Carter -
Friday February 22 2013
Lens Review
Before we take a look at the lens, we should just recap on the Sony RX1's sensor performance, which by all accounts was a stunning result. The RX1 has the best performing sensor of any high-end compact or mirrorless camera in our database and indeed comes just behind the Nikon D800/D800E and D600 DSLRs.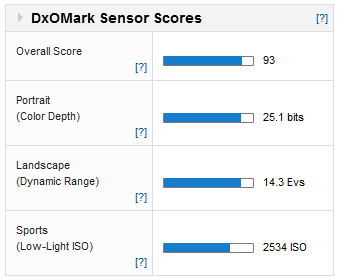 The individual scores speak for themselves. The high Portrait score of 25.1 bits is ahead of the Nikon D3x and equal to the new D600, while the huge Dynamic Range of 14.3 Ev is only bettered by the Nikon D800. The Sports (Low-light ISO) use case score is also impressive but it can't quite reach the same lofty positions of the Nikons. It places the RX1 6th overall in that category, just in front of the inspiring full-frame Canon EOS 6D.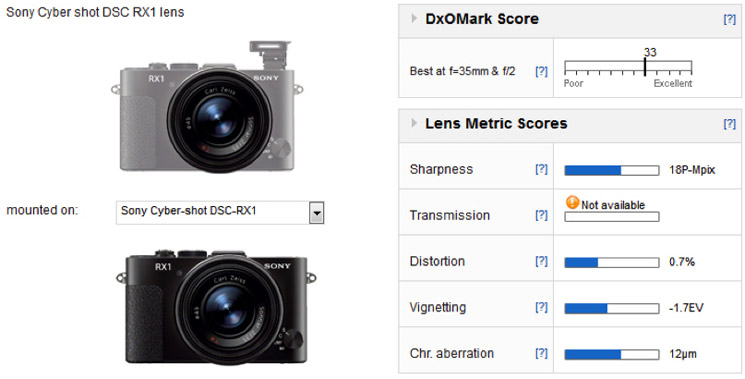 The Sony Zeiss lens has an above average DxOMark score over rival retro-focus types designed for DSLRs, though measurement of Transmission is not possible on a fixed (non-interchangeable) lens.
With a high overall DxOMark score of 33, the Carl Zeiss Sonnar T* is a superb performer optically. That score puts it comfortably ahead of the $1,850 manual focus Carl Zeiss Distagon T* 1.4/35 (35mm f/1.4) on a Nikon D3X, which achieved a DxOMark score of 30.
That wasn't the only 35mm f/1.4 lens that achieved that score, though. The manual focus Samyang AS UMC and the new autofocus Sigma DG HSM model also attained an overall DxOMark score of 30 when measured on a D3x and Canon EOS 5D Mk II, respectively.
Individual metrics show the fixed Sonnar of the RX1 to have excellent sharpness, measured at high 18P-Mpix in our labs. The Zeiss Distagon T 35mm f/2 ZE Canon, a retro-focus design incorporating nine elements (with one lens made of low-dispersion glass) achieved a moderate 15P-Mpix score when measured on a Canon EOS 5D Mk II. However, at maximum aperture the sharpness could be improved across the field, it's sharp in the centre but acutance falls away to the edges and corners.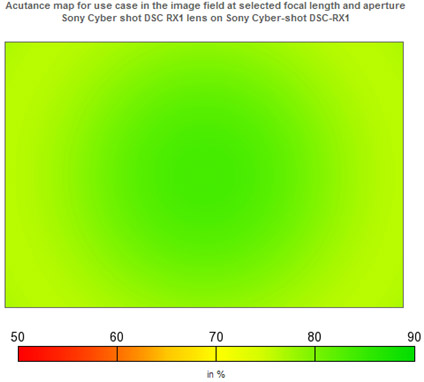 At maximum aperture the Sony Zeiss Sonnar lens performs well centrally though sharpness is not uniform across the field, as you might expect (but it's a good result all the same)
Also bear in mind because the Sonnar is fixed, non-interchangeable lens we're unable to measure Transmission. As a result, the overall DxOMark score doesn't take that into account. A poor result could lower the score, but the opposite is also true.
Measured at 0.7%, the lens has some slight but still noticeable barrel distortion. It's not complex, or 'moustache' type distortion and so it would be easy to correct in software.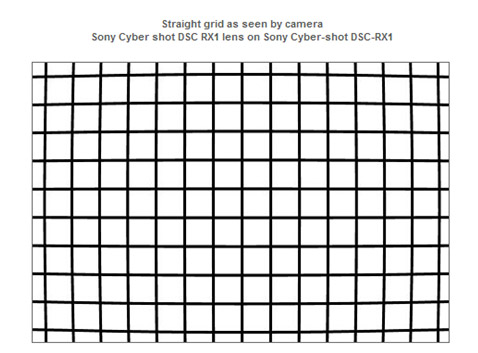 Some slight barrel distortion is noticeable but it's average for a lens of this focal length.
Chromatic aberration is slightly higher than we might expect. Although it's much lower than some high-grade zooms, for a modern prime it's a slightly surprising result.
Further readings for the Sony Cyber-shot RX1 / Carl Zeiss Sonnar T* 2/35 review: Is this the ultimate moderate wide-angle lens?
To provide photographers with a broader perspective about mobiles, lenses and cameras, here are links to articles, reviews, and analyses of photographic equipment produced by DxOMark, renown websites, magazines or blogs.
---
---
---
Comments
Added by

maxb

| June 05 , 2013

RX1 Sonnar lens mid zone dip

Hi there,

I was wondering if you noticed a mild mid zone dip with the RX1 lens? I just got the cam and the lens seems to dip slightly about 1/3 out from the centre. I also find that the corners are sharper than this area....?

Cheers,


Reply | Read all replies for this comment
First replies for this comment
---
Sharpness at f2.0 vs f3.2

Hello,
I like the RX1 a lot, but center sharpness gets A LOT better when stopping down from f2.0 to f2.8 or f3.2. At 100% view, this is fully field relevant: Details and sharpness at 2.0 are okay, from 3.2 they are brilliant. I must admit to be somewhat disappointed by that. Does this practical view fit to Your lab results (which are somewhat abstract to me), i.e. is that "perfectly normal" or did I get a bad copy ?

Yours sincerely

Martin


Reply | Read all replies for this comment
First replies for this comment
---
nice review

Thank you for the review. Looks to be a remarkable camera!

Though not really cross comparable, the Pentax K5 apsc dslr's measure an equally very healthy 14.3 EVS... until one can afford the sony the K5 is still pretty remarkable, especially for those like me on a budget.
We live in a remarkable age to have so many great cameras and reviews at such an easy reach.

Thanks again!


Reply | Read all replies for this comment
First replies for this comment
---
DXO: What is selected for RX1's Transmission to decide it's SNR Score?

Hi!

I would like to know what is selected for RX1's Transmission Score to decide it's SNR.
T = 2.1 or 2.0?

And if the above selection is not correct, RX1's SNR Score may be changed?
(E.g. If the selected value is 2.0 and the real value is 2.1, the total amount of the light, which reaches to Sensor in real value, is about 10% lower than the selected value)


Reply | Read all replies for this comment
First replies for this comment
---
First replies for this comment
---
Added by

msatlas

| January 09 , 2013

High ISO way better than Sony A99

What's up with the RX1 doing so much better than the A99 on the high ISO score? I thought they're supposed to have similar sensors but the RX1 seems to perform significantly better. Is that all chalked up to the A99's pellicle mirror?


Reply
---
Another mistake?

First it's saying that Sony uses BSI type image sensors in their dSLRs, (they don't, those are Exmor "R") and now the RX100 has an APS-C sensor? It doesn't. The RX100 uses a 1 inch sensor, like the Nikon 1 series.


Reply | Read all replies for this comment
First replies for this comment
---
Added by

Hakeem

| January 08 , 2013

another fullframe camera review

Where is XTrans sensor camera? why not testing them? all the major review sites has pubslished their reviews ages ago.

and you call yourself "Camera Sensor" Only Analysts/ Experts?

The first camera you should review is xpro1 last year!

Don't know what's wrong with you guys!!


Reply | Read all replies for this comment
First replies for this comment
---