Sony DSC-RX100 Preview
Wednesday June 06 2012
Sensor Review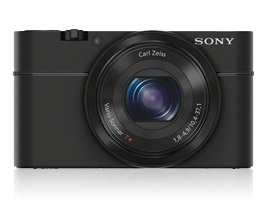 A "premium" digital camera, the Sony DSC-RX100 is not lacking in persuasiveness: a larger-than-usual CMOS sensor; a bright, high-quality wide-angle (f1/8) lens; a more compact size than all other expert APNs on the market; and a weight that is only half that of the Canon PowerShot G1 X. All complemented by the latest Sony image technologies, such as 50p video, rapid burst shooting, integrated HDR, shooting at night without a tripod, and a brand-new "WhiteMagic" display screen. Does this mean that the Cyber-shot DSC-RX100 will become the new camera of reference among expert compacts?
Further readings for the Sony DSC-RX100 Preview
To provide photographers with a broader perspective about mobiles, lenses and cameras, here are links to articles, reviews, and analyses of photographic equipment produced by DxOMark, renown websites, magazines or blogs.
---
---
Comments
CYBER-SHOT DSC-RX 100 II

CYBER-SHOT DSC-RX 100 II
http://trendsrtk.blogspot.in/2013/06/cyber-shot-dsc-rx-100-ii.html
Sony introduces its forward- thinking compact cameras named Cyber-Shot DSC RX 100II. It trade with 1-inch standard CMOS for a 1- inch backside-illuminated CMOS. It is well as RX 100 design with an accessories like an microphone, flash, wi-fi, LCD etc


Reply
---
CYBER-SHOT DSC-RX 100 II

CYBER-SHOT DSC-RX 100 II
http://trendsrtk.blogspot.in/2013/06/cyber-shot-dsc-rx-100-ii.html
Sony introduces its forward- thinking compact cameras named Cyber-Shot DSC RX 100II. It trade with 1-inch standard CMOS for a 1- inch backside-illuminated CMOS. It is well as RX 100 design with an accessories like an microphone, flash, wi-fi, LCD etc


Reply
---
Added by

lhquam

| January 20 , 2013

No Lens sharpness measurements?

I have noted that none (or few) tests of compact cameras include any sharpness scores or measurements. Is there a reason that DXO doesn't provide those measurement?


Reply
---
Added by

Hakeem

| September 09 , 2012

Amazing

Amazing camera. However, where is the review on OM-D? Released much earlier than this Sony one? You still havent got a copy of it or what?

Am waiting anxiously to see how it perform!


Reply
---
Added by

AaronMC

| September 07 , 2012

Welcome back

Welcome back, DxOMark crew.


Reply
---
Remarkable!

The is a genuinely correct compact camera in terms of pocket size and highly quality image concerned.


Reply
---