Sony E 20mm f/2.8 review: A 'fast' pancake prime lens for the Sony NEX system
By Paul Carroll -
Friday May 24 2013
Lens Review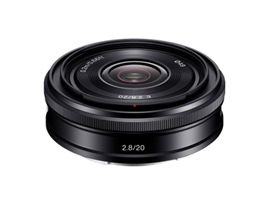 The $348 Sony E 20mm f/2.8 is a wide-angle prime for the Sony NEX range of hybrid still cameras and Interchangeable Lens camcorders. Its equivalent 30mm wide-angle focal length is ideal for interiors, landscapes or street photography, and a f/2.8 aperture is great in low-light. Just 20.4mm deep and weighing 69g it's compact for travelling light, but how will it perform?
Further readings for the Sony E 20mm f/2.8 review: A 'fast' pancake prime lens for the Sony NEX system
To provide photographers with a broader perspective about mobiles, lenses and cameras, here are links to articles, reviews, and analyses of photographic equipment produced by DxOMark, renown websites, magazines or blogs.
---
Comments
Pancake lenses are inherently soft.

Pancake lenses are inherently soft.
Are popular only by amateurs who prefer convenience than quality photos.
On the other hand they are very small and very light.
This pancake lens is quite sharp and expensive at around 300 euros.
Sony curiously has two pancake lenses for its APS-C e-mount cameras.
The older 16mm f/2.8 is cheaper, wide but very very soft. The new 20mm has solved the problem with a higher price.
Both 16mm and 20mm accept cheap ultra wide and fishey adapters. Both deteriorated sharpness but they are convenient small and cheap.
Unfortunately Sony doesn't produce a pancake FE lenses for its full frame a7 e-mount series. This is an omission or Sony doesn't want to bother with a typical amateur lens for its a7 prime cameras. I hope Sony will change its mind because the bigger the sensor the bigger the lenses. And Sony a7 series losses its size advantages with big sony lenses.
Of course the 20mm pancake lens can be used with an a7 camera with cropped frame. So the result are the same as with a Sony a6300.


Reply
---
First replies for this comment
---
Finally A Reasonable Comparison

Last time I complained about the unfair advantage given by the NEX7 in sharpness score between the Lumix G ultra-wide angle and NEX ultra-wide angle, and this time you've addressed that issue. Great.


Reply | Read all replies for this comment
First replies for this comment
---
First replies for this comment
---