Sony NEX 5-R: A new Sony NEX-5N?
Thursday November 08 2012
Sensor Review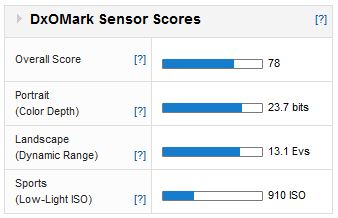 With an overall DxOMark Score of 78, the NEX-5R places 28th in the DxOMark rankings. It beats its predecessor, the NEX-5N, by only one point, which clearly indicates that it uses the very same sensor.
The NEX-5R jumps 5 places ahead of the Sony SLT-A57, the DSLR equipped with the same sensor but somewhat handicapped in low-light sensitivity by its use of Translucent Mirror Technology. The NEX-5R also jumps ahead of the Canon EOS 1D Mark IV by 9 places as well as the Fujifilm X100 – a camera of reference – by 10 places.
For color depth, the NEX-5R scores 23.7 bits, so no improvement here with respect to the NEX-5N.
The NEX-5R delivers a maximum dynamic range of 13.1EV, a very honorable score that puts it into 15th place in the DxOMark rankings. However, as far as this precise criterion goes, the NEX-5R is still beaten by several other cameras equipped with apparently similar sensors, such as the Nikon D5100 and D7000, which measure 13.6 and 13.9EV, respectively, as well by as the Pentax K-5, currently in first place among APS-C cameras for dynamic range with a score of 14.1EV. We note a slight improvement of 1/3EV over the NEX-5N (a difference that is hardly noticeable on final print images).
For low-light sensitivity, the Sony NEX-5R achieves a score of 910 ISO, which puts it in 39th place in the DxOMark rankings. By comparison, the camera with the most sensitive APS-C sensor in this category, the Nikon D5100, racks up a score of 1183 ISO. This is a big difference in terms of absolute values, but translates into an improvement of only 1/3EV, which is scarcely noticeable on a print.
The Sony line of compact hybrids also includes the NEX-F3, which shares its 16Mpix CMOS sensor with the NEX-5R. The NEX-5R scores 5 more points on the DxOMark scale than the very consumer-oriented NEX-F3 — a difference is achieved thanks to the NEX-5R's 100 ISO setting (the NEX-F3 starts at 200 ISO), which improves the maximum dynamic range that the sensor can deliver (2/3EV greater for the NEX-5R than for the NEX-F3).
Further readings for the Sony NEX 5-R: A new Sony NEX-5N?
To provide photographers with a broader perspective about mobiles, lenses and cameras, here are links to articles, reviews, and analyses of photographic equipment produced by DxOMark, renown websites, magazines or blogs.
---
Sensor
|
November 08, 2012
| | |
| --- | --- |
| | Announced at IFA 2012, Sony's NEX-5R (2938) is the third version of its very popular NEX-5 (1358) camera. This new model features a 16-megapixel APS-C EXMOR sensor composed of photosites that provide autofocusing by phase detection. Has Sony improved the image quality of its latest mid-range compact hybrid? Our tests reveal the answer. |
---
---
Comments
Re: Tests and reviews for the camera Sony NEX-5R

I think there is a mistake on this page. Although the first half is about the NEX-5R, the remainder of the page is dedicated to discussions about different cameras.


Reply | Read all replies for this comment
First replies for this comment
---
Re: Tests and reviews for the camera Sony NEX-5R

Hello,

Thanks for your interest in DxOMark.

You mean the section with other cameras? It is made for you to read the review of close cameras.

Best regards,

The DxOMark team


Reply
---
Added by

pakmenu

| December 28 , 2012

1/3Ev difference with NEX-5N?

Also in the review of the NEX-6
(http://www.dxomark.com/index.php/Publications/DxOMark-Reviews/Sony-NEX-6-The-logical-CSC-choice/Comparisons)
it is stated that the difference with 5N is 1/3Ev! that difference is only between 1018 and 1079 ISO score!

so maybe the 6 and 5N only differ 1/8th or so?


Reply
---