Sony NEX 5-R: A new Sony NEX-5N?
Thursday November 08 2012
Sensor Review
Sony NEX-5R vs Olympus OM-D E-M5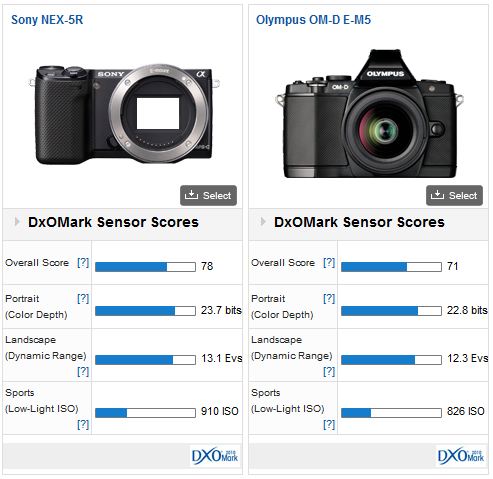 During our tests of the Olympus OM-D E-M5, we found that the manufacturer's new 16Mpix LiveMOS 4:3 sensor had largely caught up in every category, starting with a dynamic range that allows it to rejoin the field of APS-C compact hybrids in terms of image quality (though with the Sony NEX still ahead).
With a DxOMark overall score of 78, the NEX-5R's APS-C sensor stays above the Olympus sensor results, but Sony's lead has been somewhat diminished with respect to the micro 4:3 — only a half-stop better for color depth (23.7 vs 22.8 bits), 2/3EV better for dynamic range (13.1EV vs 12.3EV), and equivalent low-light sensitivity.
The differences between the low-light ISO, color depth, and dynamic range scores are principally due to the Sony's newly-available 100 ISO minimum sensitivity, whereas the Olympus's minimum is 200 ISO.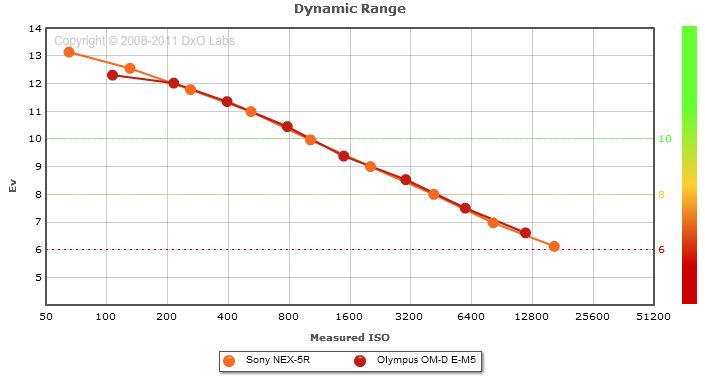 Olympus no longer needs to be embarrassed about having its sensor compared to Sony's: the dynamic range at different sensitivities match until the very lowest levels (200 ISO for the OM-D). This characteristic penalizes the OM-D in its contest with the NEX-5R, which benefits from its minimum 100 ISO to achieve 0.6EV more for this last stop.
Olympus will also be using the same sensor used in the OM-D E-M5 for its recently-announced more affordable models, the Pen E-PL5 and Pen E-PM2, which we will be testing shortly.
Sony NEX-5R vs Panasonic G5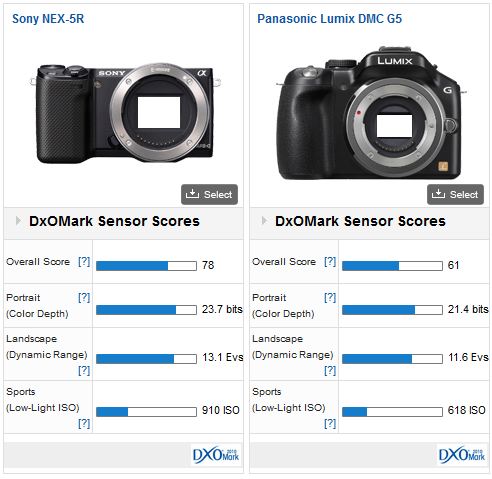 Pitted against the aging 4:3 sensor design of the Panasonic compact hybrids, the Sony NEX-5R sensor scores points.
The color depth of the NEX-5R sensor is 1.5EV higher, for slightly finer gradations. Its dynamic range is also more generous, with a gain of 1.5EV (13.1EV for the NEX-5R versus 11.6EV for the DMC-G5), or one and a half stops larger.
Finally, for low-light sensitivity, with 618 ISO for the Panasonic sensor versus 910 ISO for the Sony EXMOR sensor, the NEX-5R wins by half a stop.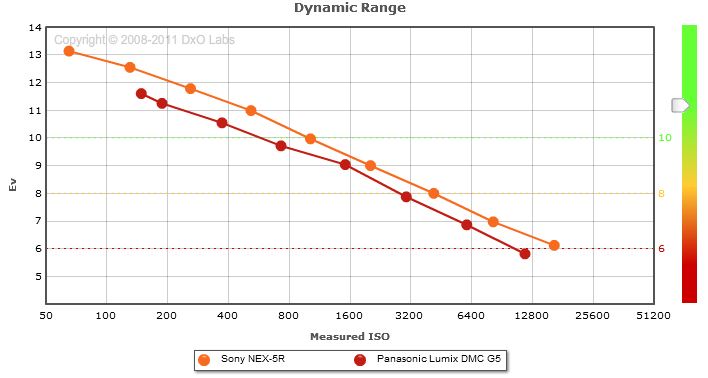 The Sony NEX-5R sensor's dynamic range is even greater at 100 ISO versus the Panasonic DMC-G5's performance at 160 ISO. At its minimum sensitivity, the Sony offers 1.5EV additional exposure latitude than the Panasonic.
Further readings for the Sony NEX 5-R: A new Sony NEX-5N?
To provide photographers with a broader perspective about mobiles, lenses and cameras, here are links to articles, reviews, and analyses of photographic equipment produced by DxOMark, renown websites, magazines or blogs.
---
Sensor
|
November 08, 2012
| | |
| --- | --- |
| | Announced at IFA 2012, Sony's NEX-5R (2938) is the third version of its very popular NEX-5 (1358) camera. This new model features a 16-megapixel APS-C EXMOR sensor composed of photosites that provide autofocusing by phase detection. Has Sony improved the image quality of its latest mid-range compact hybrid? Our tests reveal the answer. |
---
---
Comments
Re: Tests and reviews for the camera Sony NEX-5R

I think there is a mistake on this page. Although the first half is about the NEX-5R, the remainder of the page is dedicated to discussions about different cameras.


Reply | Read all replies for this comment
First replies for this comment
---
Re: Tests and reviews for the camera Sony NEX-5R

Hello,

Thanks for your interest in DxOMark.

You mean the section with other cameras? It is made for you to read the review of close cameras.

Best regards,

The DxOMark team


Reply
---
Added by

pakmenu

| December 28 , 2012

1/3Ev difference with NEX-5N?

Also in the review of the NEX-6
(http://www.dxomark.com/index.php/Publications/DxOMark-Reviews/Sony-NEX-6-The-logical-CSC-choice/Comparisons)
it is stated that the difference with 5N is 1/3Ev! that difference is only between 1018 and 1079 ISO score!

so maybe the 6 and 5N only differ 1/8th or so?


Reply
---