Sony NEX-F3 review
Thursday October 04 2012
Sensor Review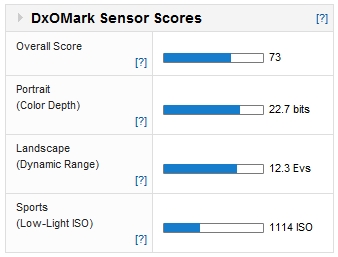 Sony's NEX-F3 sensor received a commendable DxOMark Overall Score of 73 placing it in a three-way tie for 11th place among Sony cameras – it's equalized by the NEX-C3 and the Sony SLT Alpha 55. Interestingly, the mirrorless NEX-7 tops all other Sony cameras in DxOMark sensor rankings, illustrating the NEX-F3 had a lot of opportunity and potential to increase its sensor quality.
The hybrid NEX-F3 received praise for its color quality. It can register about 22.7 bits of color, making the camera a real color hunter. Portrait and nature photographers would easily be attracted to this mirrorless camera's ability to capture a wide variety of colors and contrast.
Landscape and architecture photographers will appreciate the NEX-F3's praise-worthy dynamic range quality. Its best dynamic range is around ISO 200, but the camera still produces quality details in contrasting environments until about ISO 800.
NEX-F3's weakest sensor quality is its uninspiring performance in low light. It reached an ISO threshold of about 1115, after which its image quality began to deteriorate. Nevertheless, it remains satisfactory for an APS-C sensor.
Further readings for the Sony NEX-F3 review
To provide photographers with a broader perspective about mobiles, lenses and cameras, here are links to articles, reviews, and analyses of photographic equipment produced by DxOMark, renown websites, magazines or blogs.
---
Sensor
|
October 04, 2012
| | |
| --- | --- |
| | The NEX-F3 is one of three Sony mirrorless camera models released in 2012, and it's the company's eighth since the launch of the NEX line in 2010. The NEX-F3 borrows heavily from higher-end models, but also taps much of the technology found in its predecessor. So is there any big evolution in sensor quality for the NEX-F3? Or were most of the changes to the camera cosmetic? DxOMark has some answers. |
---
---
---
---