Sony SLT Alpha 77 II sensor review: New leader in the 'semi-pro' category?
By Kevin Carter -
Tuesday May 27 2014
Sensor Review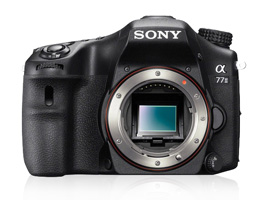 With the 2014 World Cup in Brazil approaching, this is the time manufacturers with serious interests in professional sports start revealing new cameras and lenses to selected press agencies. Both Canon and Nikon are rumored to be fielding prototype professional-level APS-C bodies during the tournament for testing. However, rival Sony appears to have stolen a march by introducing the SLT Alpha 77 II ahead of the games.
Specification and Features
High profile sporting events are often used as proving grounds for prototype models from rivals, and whether by design or not, Sony's introduction of the SLT A77 II coincides with the start of the 2014 World Cup in Brazil. As a revamp of the firm's popular A77 it's a camera that should appeal to sports and action photographers. Outwardly the camera resembles its predecessor but the big news is the upgrading of the AF sensor module, which allows the A77 II to rattle off 60 full res JPEGs (Fine L) at up to 12 fps complete now with AF tracking.
And, thanks to the so-called translucent mirror technology all this is achieved at same time retaining the live view image using either the built-in hi-res EVF (now 1.23M dot panel up from a 920k dot LCD) or the triple hinged (tilt and swivel) rear LCD.
Although the burst rate hasn't changed over the original, the new wide-area AF array adopts 79 points with 15 cross type sensors but details are still sketchy concerning their suitability using telephoto lenses with a maximum aperture of 5.6, or slower. Like the A77 before it the new model adopts a stabilized 24-Mpix APS-C CMOS sensor, although it's likely related to that found in firm's A6000 (minus the on-chip PDAF pixels), along with the firm's new Bionz X level processor with a new maximum ISO setting up to 51,200.
Video includes a 60p option and audio level monitoring but Sony has dropped the useful built-in GPS option found on the A77 replacing it with built-in Wi-Fi communication (complete with NFC) instead. The A77 II is available for pre-order at $1,199 body only or for $1,799 including the 16-50mm zoom.
For more information, please see our preview at http://www.dxomark.com/Reviews/Sony-a77-II-Preview-Sony-unveil-new-flagship-APS-C-SLT-camera
Key specifications
24MP CMOS Sensor with gapless, offset microlenses
12fps continuous shooting with autofocus (up to 60 JPEGs)
79 point AF module with 15 cross-type AF points, covering 40% of frame
2.4M dot OLED viewfinder
Pull-out three-hinge tilt/swivel 1.23m dot White Magic LCD screen
1/8000th top shutter speed, 1/250th flash sync.
ISO 100 - 25,600 (Extendable down to 50, and up to 51,200 with multi-image combination)
1080/60p movies with autofocus
Stereo microphone and external mic socket
Audio level monitoring
Built-in Wi-Fi with NFC
Further readings for the Sony SLT Alpha 77 II sensor review: New leader in the 'semi-pro' category?
To provide photographers with a broader perspective about mobiles, lenses and cameras, here are links to articles, reviews, and analyses of photographic equipment produced by DxOMark, renown websites, magazines or blogs.
---
---
---
Comments
Added by

AndiP66

| January 14 , 2016

your forgot the Sigma 18-35mm F1.8

Unfortunately you forgot one of the best APS-C zoom lenses available for the Sony A-mount system:
The Sigma 18-35mm F1.8 ART

Furthermore the Tamron 70-200mm F2.8 lens delivers almost identical optical performance as the Sony 70-200mm for less than half the price.


Reply | Read all replies for this comment
First replies for this comment
---
Nice review

I agree with most of your tests and own most of the glass. The Sony 16-50 f/2.8 IS by far the best zoom on this camera! Very sharp!
There's one lens missing, I wish you had tested. Tamron 150-600. I have it and love it! My favorite telephoto!
Good job!


Reply
---
a lot of testing errors

I'm noticing what appear to be a number of testing errors on some lenses.
For example, the Minolta 50/14 and the Sony 50/1.4 are the SAME LENS. When tested on the A99, they get nearly identical results, as one would expect. But somehow, when tested on the A77ii, the Minolta gets 22mp of sharpness and the Sony gets 11mp. This is simply physically impossible. They are the same lens, they got the same results on the A99.

There are other examples where the numbers simply look inflated. The Sony 35/1.4 is a horrible lens, unfortunately. Yet its testing sharper than the Sigma ART? I don't believe it. When tested on the A99, the Sony 35 gets only 11mp of sharpness and the Sigma gets 17mp. But somehow, magically, switch to the A77ii, and the Sigma goes down from 17mp to 15mp, and the Sony goes up to amazingly from 11mp to 19mp.

Unless the A77ii has some magical ability to increase resolution, but only of select lenses, these numbers simply do not make any sense.



Reply
---
Can you believe this?

Where is the "magical" 24-70F2.8 which is 23MP on A77II, 16MP on A99 and 15MP on A77?

I really appreciate the works of DXOMARK but seriously do you even believe this result yourself?


Reply
---
Test of Lenses

Please test the prtrait lens, super telephto lens of Sony as well as third party lenses. It's very important to upgrade from beginner to advanced further to pro level. This is the only source that we can rely.

With regards,


Reply
---
LENSES TO BE TESTED

Please review the lenses tested with it. From portrait to super telephoto. From Sony lenses to third party. It is the only website we can rely upon the output.

With regards,


Reply
---
A77II low iso results vs A77

Thanks for your evaluation on the A77II. I use my A77 with a Leitax adapter and long APO glass for Hummingbird photography. I never shoot above 200 iso as I've found that even 400 iso destroys micro detail if slightly underexposed.
I'm wondering if there has been an improvement in low iso results, given the new sensor in the A77II? I can't find side by side samples to evaluate so I'm wondering of you could definitively say that the A77II provides noticeably better 100-200 iso results than the A77? This would make it worthwhile for me to upgrade.
If there is no improvement in low iso shooting, the other camera improvements would be of little use to me.
Thanks for your assistance with this.

Lawrence


Reply | Read all replies for this comment
First replies for this comment
---
Added by

srood

| May 28 , 2014

request

great hope you do some sony lenses review
just the best once like 135 1.8 , we want to see its performance against best lens on your score the zeiss apo 135 f2 nikon version


Reply | Read all replies for this comment
First replies for this comment
---