Sony SLT Alpha 99 review: New full-frame sensor is Sony's best yet
By Janice Chen -
Friday December 21 2012
Sensor Review
Great dynamic range, but low-light shooting trails competitors
Sony SLT Alpha 99 vs. Nikon D800 vs. Nikon D600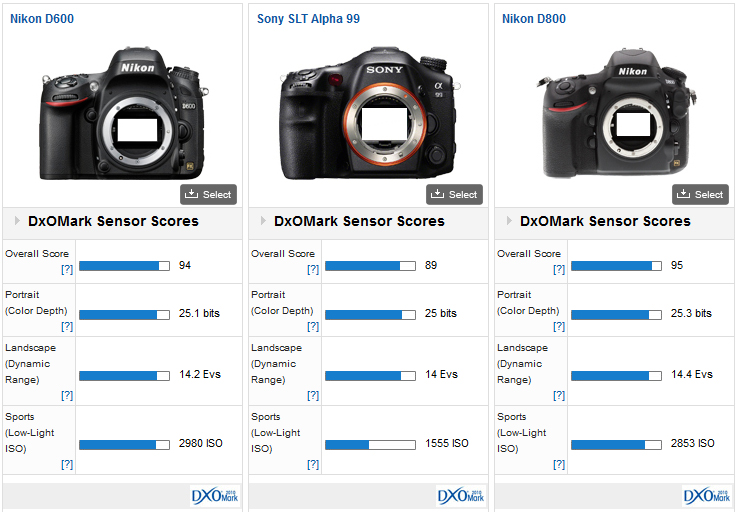 The Alpha 99's closest competitor in terms of price point is probably the Nikon D800 (which at $2,999 is about $200 over the A99's price of $2,800), but it sports a higher resolution Sony-made 36.3-megapixel CMOS sensor.
The lower-priced Nikon D600 ($2,100) is actually based on a very similar 24.3-megapixel Sony sensor—though not completely identical to that in the A99 (according to Nikon), it's likely the same technology.
In fact, in good lighting conditions scores are very close among the three cameras, with the A99 less competitive in low-light conditions due to the SLT technology as mentioned above.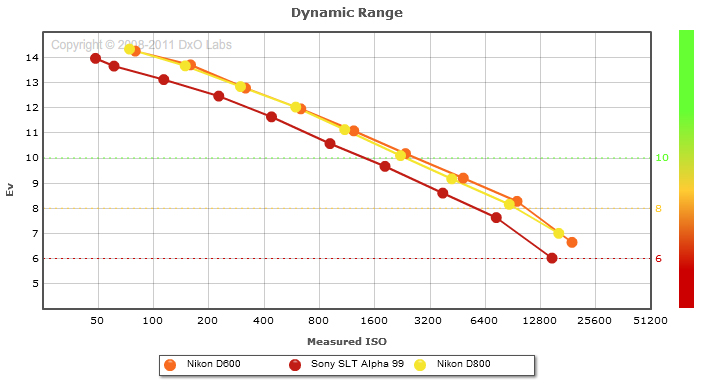 And while the Portrait Scores indicate that color-depth performance is very similar across all three cameras, the limitations of the SLT are clearly shown in the A99's poorer Sports Score at 1555 ISO (vs. 2980 ISO for the D600 and 2853 ISO for the higher-resolution D800).
Sony SLT Alpha 99 vs. Canon EOS 5D Mark III vs. Canon EOS 1D X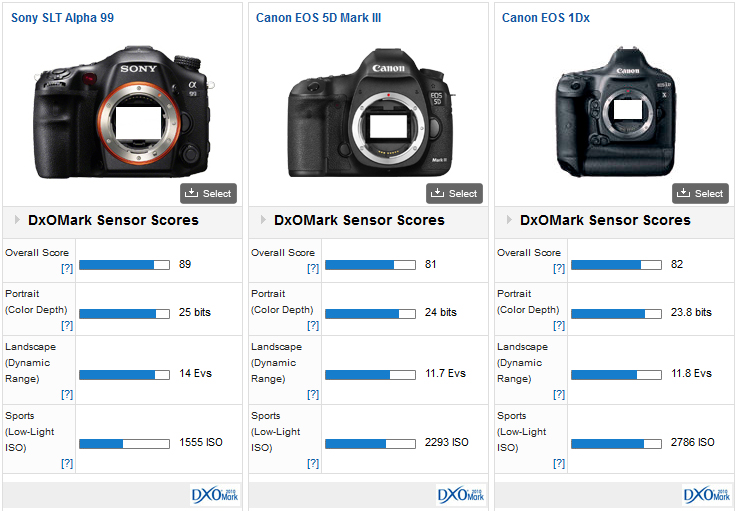 Even more impressive is the Sony Alpha 99's performance compared with the significantly higher-priced Canon EOS 5D Mark III ($3,500) and Canon EOS 1D X ($6,800).
Though it can't compete with the more-expensive models for low-light sports photography—no surprise, since besides the SLT limitation, the Sony also delivers the highest pixel count vs. the 18.1-megapixel 1D X and the 22.3-megapixel 5D Mark III—its Overall Score of 89 handily beats out the 5D Mark III's score of 81 and 1D X's 82.
Again, it's the dynamic range Landscape Score that gives the A99 its biggest boost. Though the A99's ISO latitude is more restricted (topping out at ISO 25600 vs. 102400 for the 5D Mark III and 204800 for the 1D X), its lowest setting of ISO 50 again helped it achieve the best dynamic range score by far.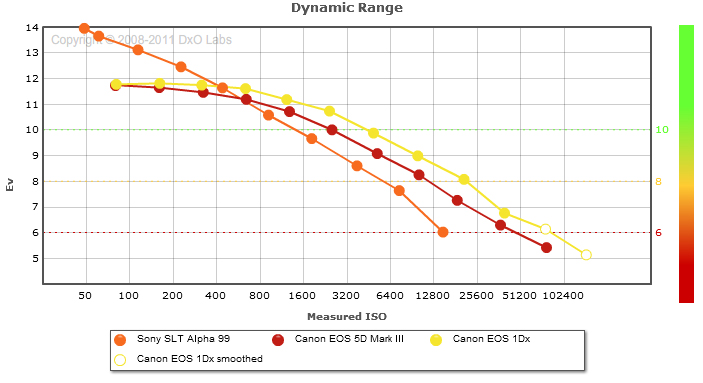 Further readings for the Sony SLT Alpha 99 review: New full-frame sensor is Sony's best yet
To provide photographers with a broader perspective about mobiles, lenses and cameras, here are links to articles, reviews, and analyses of photographic equipment produced by DxOMark, renown websites, magazines or blogs.
---
Sensor Preview
|
October 30, 2012
| | |
| --- | --- |
| | Finally, a Sony full-frame DSLR: the last one was the Alpha 850. But though the new full-format 24Mpix camera shines with all of its new technology and features, it now belongs to the family of cameras with electronic viewfinders instead of with the Alpha 900 and its traditional DSLR viewfinder. With this new positioning, Sony stands out from among the leading lights in this market segment. |
---
---
---
---
Comments
First replies for this comment
---
sony a99

Sony is doing well, a99 is one wonderful innovation, but I don't know why Sony has stop manufacturing DSLR or DSLR like cameras which is less expensive like sony a580 and which have longer battery life. I think is time for Sony to upgrade the a99, we have had a lot of a7 series which too expensive and very small. honestly I like a99, because of how it was built and great image quality.


Reply
---
Lenses to Test

Hello,

I know it would be difficult, but is there any chance you guys can get your hands on the older Minolta glass? It is much more integral for the Sony mount since the Minolta mount is still very much a part of our system. So if you ever get your hands on the following lenses (I am a bit biased as a wildlife photographer), can you please test them as many alpha shooters still use them.

Minolta 200/2.8 G APO
Minolta 300/4 G APO
Minolta 400/4.5 G APO
Minolta 600/4 G APO
Minolta 80-200/2.8 G

Hopefully you can get your hands on some of these lenses and test them.



Reply
---
still no tests for many lens

Any news regarding the tests of broader range of high-end lens for Alpha system? The Sony 50/1.4 ZA SSM was supposed to be tested in the summer and it's still not there. People often ask for testing Sony 135/1.8 ZA or 24/2.0 too, are there any plans for them? And the new 70-200/2.8G SSM II? These are probably the lens the professionals are most interested in.


Reply | Read all replies for this comment
First replies for this comment
---
Added by

timtom

| December 05 , 2013

test lens

numbers don't talk to me that much... but this is not the point here. However i think the prime lens ranking is going to be bothered when you will review the 135f1.8 sony zeiss. and... the 50f1.4 sony zeiss planar! just purchased it, It's my 4th 50mm among every brands and this is stellar, contrasty as f*** straight from widest aperture. SSM crazy fast and accurate, way above all others CaNikon. Not flawless (distortion, CA f1.4), but almost, it's a must have and indirectly a must test. you must do it!


Reply
---
a99 and D600

i'm a beginner in these dslr cameras, can you suggest to me what to choose between a99 and D600 because im so confuse about the two.

also, what's the best standard lens for nikon D600? at first id like to choose a99 with sal2875 and for nikon lens that i dont know..

please help me..
thanks,


Reply
---
Sony 300/2.8 SSM scores much too low...

Hi,
from my rather long experience with the predecessor, the still "current" 300/2.8 SSSM, there has to be a mistake in the testing of the new Sony lens - it will not be worse than the old version (or will it?).
And the current 300/2.8 SSM is at least on par with the Zeiss 85/1.4 AF or the 135/1.8 AF which I use, and A LOT (and I mean: A LOT!) sharper than the Sony 35/1.4, for example - it is one of or even the best lens in the Sony system (for an impression, just look at Sony´s MTF charts).
Almost everybody in the Sony forums who has access to that lens says the same... - so could there have been a mistake?
A focus problem or a "faulty" lens, for example?

I would LOVE to see a retest with a second item - Sony company should be interested in putting the result right and proving the 300/2.8 SSM to be the "stellar" lens it is... - the current version is indeed!
Thank you,
Ruediger


Reply | Read all replies for this comment
First replies for this comment
---
First replies for this comment
---
Added by

Kuau

| June 29 , 2013

Zeiss Manual focus lenses

I use Zeiss manual focus lenses on my A99 and the results are amazing.
Basically I purchased Nikon mount ZF.1 lenses and easily changed the mounts with Leitax mounts, now I have the best of both worlds, class leading glass, fantastic EVF with focus peaking.
I did a comparison of the Excellent Sony 24/2 lens and Zeiss 25/2.8, I preferred the look of the Zeiss 25.


Reply
---
PLEASE test the Carl Zeiss 135mm f1.8!

I really wish you guys would do some test with this lens... A lot of us a-mount shooters feel that it could possibly be the best a-mount (prime) lens... and even the best 135mm prime on the market. I would love to see how it does (in terms of scoring)


Reply | Read all replies for this comment
First replies for this comment
---