Sony Zeiss Sonnar T* FE 55mm f1.8 ZA lens review: Exemplary performance
By Kevin Carter -
Wednesday January 29 2014
Lens Review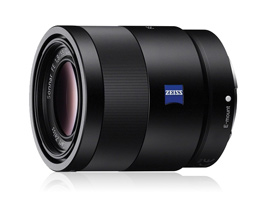 Debuted alongside the Sony Alpha A7 and A7R, the Sonnar T* FE 55mm f1.8 may sound rather conventional and unexciting on paper, but with a Zeiss badge and at close to $1,000, is it capable of offering extraordinary image quality? Read on to find out.
The Zeiss Sonnar T* FE 55mm f1.8 ZA was one of five new lenses launched alongside Sony's full-frame mirrorless 36-Mpix Alpha 7R and 24-Mpix Alpha 7. It's a premium model weighing 9.9 oz (281g) and adopting a dust and moisture resistant construction and metal outer shell.
However the optical construction consisting of 7 elements arranged in 5 groups is relatively simple and in keeping with the Zeiss Sonnar lens design. With no distance markings or depth of field scale and a minimum focusing distance of 1.6 ft. (0.5m), it all seems rather modest for a shade under $1,000. However, the Zeiss badge on the side shows great promise with regard to image quality, especially when paired with A7R that, with its 36-Mpix sensor sans AA filter, is practically identical to imaging device found on the Nikon D800E.
Further readings for the Sony Zeiss Sonnar T* FE 55mm f1.8 ZA lens review: Exemplary performance
To provide photographers with a broader perspective about mobiles, lenses and cameras, here are links to articles, reviews, and analyses of photographic equipment produced by DxOMark, renown websites, magazines or blogs.
---
---
---
---
Comments
Sony-Zeiss 55mm Sonnar: a stellar performer!

<div id="linkdxomark">This a comment for <a href="http://www.dxomark.com/index.php/Lenses/Sony/Sony-FE-Carl-Zeiss-Sonnar-T-STAR-55mm-F18">this page on the website</a></div>I just received this lens and managed to take 1/2 day of shots with my A7II body. I can't refrain from saying that this lens (together with the 90mm cousin) is just stellar.
I particularly like the small body (compared to my Sigma 35mm for Nikon), the reduced weight and the incredible sharpness. The construction is also extremely nice, no shaking parts inside. Great job Sony+Zeiss!


Reply | Read all replies for this comment
First replies for this comment
---
Sony FE lens

I made an extensive study of cameras and lens used in a magazine titled Nature's Best Photography, from 2005 to 2014 and found that hundreds of the exceptionally sharp, vivid professional photos in this magazine had lens that were tested in DXOMark for sharpness and the test scores ranged from as low as 4 to as high as 20 but all of these photos were, as stated, exceptionally sharp and vivid.
Notwithstanding the fact the professional photographers can work wonders in programs like Photoshop, how does DXOMark explain the fact that such a disparity in DXOMark sharpness scores can still result in photographs that show no appreciable difference as far as sharpness? I have relied on DXOMark sharpness scores in buy several lens. Was I wasting my time?



Reply | Read all replies for this comment
First replies for this comment
---
How come 55mmf1.8 on the NEX7 is so awful?

I think mounting a full frame lens on an APS-C camera body should yield in great results? How come this lens outresolves a behemoth like the A7r but is so awful on the NEX7 which is a 24MP APS-C camera?


Reply | Read all replies for this comment
First replies for this comment
---
First replies for this comment
---
A7 Lens Results

Still waiting to see some FE lens results using the A7. It nice to see the A7R results but given the A7R shutter shock issue the A7 has become what many believe a better camera. So it would be great to see some lens results. Thanks


Reply | Read all replies for this comment
First replies for this comment
---
Added by

Flowaka

| February 12 , 2014

Sony FE Carl Zeiss Sonnar T* 55mm F1.8 ZA

Hello DxOMark-team,

First of all I have to thank you for this review. My doubts about this lens price/performance are gone.

I'm just so eager and curious to see how the Sony FE Carl Zeiss Sonnar T* 55mm F1.8 ZA performs on the Sony A7. Will these results be up soon?

My human instincts tells me it's going to perform around ~22P-Mpix of sharpness on the A7. Human-to-human (no robot), my wild guess would be close? :)


Reply | Read all replies for this comment
First replies for this comment
---
Added by

wisep01

| January 31 , 2014

Keep it up!

Dear DxOMark team,

On behalf of your disinterested readership, I just wanted to drop a line letting you guys know what a stand-up job you're doing ignoring the D800E.

I don't know of any other site better able to pretend that the D800E doesn't exist.

It's fascinating how you chose to compare a non-AA filter camera--the A7R to a camera with an AA filter--the D800, all the while ignoring a more comparable camera--the D800E. Your "performance," like that of the Zeiss lens, is truly exemplary. Keep it up!

Best regards,



Reply | Read all replies for this comment
First replies for this comment
---
T stop?!

Hey, can we talk about that T/1.8 rating? Isn't that physically impossible for an f/1.8 lens?

Is that score correct? If so, does it mean that the lens is actually a little bit wider and they're just marketing it as f/1.8?


Reply | Read all replies for this comment
First replies for this comment
---
DXO - you have a bad test on the NEX7

I have Imatested the FE55 on the A7r and NEX7 several times and at all f-stops under f8. The scores should be within about 5-8%. There is no way to justify the Sharpness score you're reporting.




Reply | Read all replies for this comment
First replies for this comment
---
Really interesting

I hadn't looked before this review of the difference between the APSC 24MP NEX7 and the 36MP FF A7r performance. The Sharpness jumps from 15MP on the NEX7 to 29MP on the A7r. Perhaps Sony can create the 55mm OSS in full frame...

Here is the interesting comparison:
http://www.dxomark.com/Lenses/Compare/Side-by-side/Sony-FE-Carl-Zeiss-Sonnar-T-STAR-55mm-F18-on-Sony-A7R-versus-Sony-FE-Carl-Zeiss-Sonnar-T-STAR-55mm-F18-on-Sony-NEX-7-versus-Sony-E-50mm-F18-OSS-on-Sony-NEX-7___1252_917_1252_736_745_736


Reply | Read all replies for this comment
First replies for this comment
---