Standard micro 4/3 lens reviews
Wednesday March 28 2012
Lens Review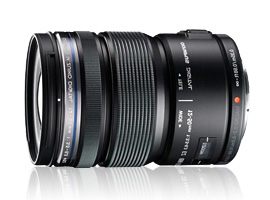 The Olympus M.ZUIKO DIGITAL ED 12-50mm f/3.5-6.3 EZ is the latest kit zoom from Olympus. The equivalent of 24-100mm on 24x36, this 12-50mm is both tropicalized and motorized, and is boxed together with the latest Olympus camera, the OM-D E-M5.
While waiting for the DxOMark results for this camera, here are some results for this lens when mounted on a couple of other micro 4/3 cameras — in particular, the Panasonic GH2, whose results in principle should be quite close to those of the OM-D E-M5.
People who love zooming in when shooting video will appreciate being able to vary the zoom speed … and how very quiet the motorization is. (The motorization can be deactivated and thus videographers and photographers can have a traditional zoom ring at their disposal, as they prefer).
As for image quality, the DxOMark results will give a good idea of what people can expect from this new lens. Right off the bat, we can say that this simply isn't a bright lens at all — certainly the 12-50mm's biggest weak point, especially for a lens being sold at the non-negligeable price of $499. Combined with a micro 4/3 sensor — smaller than those for APS-C and full-frame cameras — and you will likely have some difficulty in obtaining high-quality photos in low-light with this lens.
Test results
Having said all this, let's look at the standalone lab results for the Olympus M.ZUIKO DIGITAL ED 12-50mm f/3.5-6.3.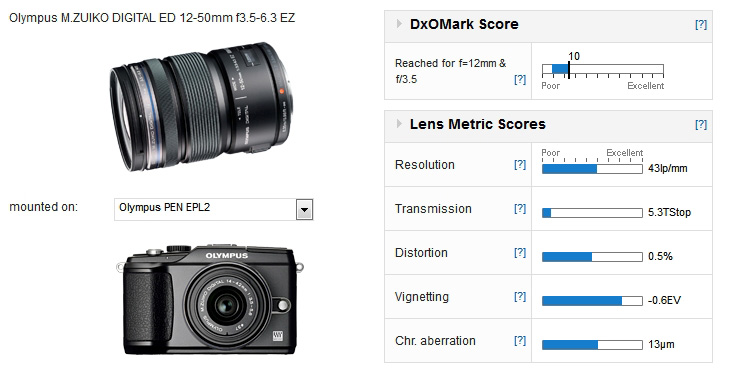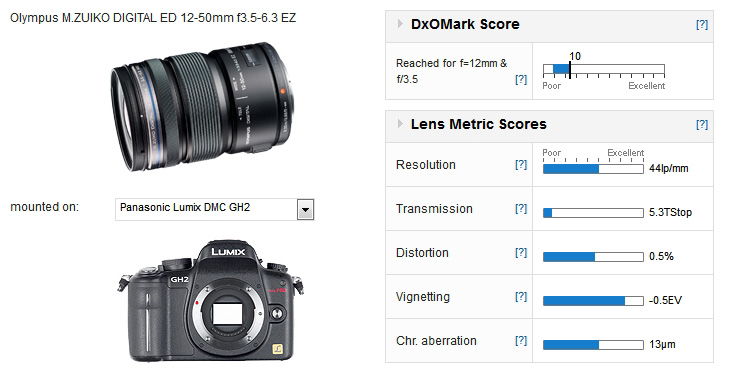 No surprises here: the DxOMark score of 10 for this lens is comparable to that of other consumer kit lenses.
| | |
| --- | --- |
| Strong points | Weak points |
| Satisfactory sharpness, uniform at at f/8, maximum in the center at 12mm f/3.5 | Tolerable chromatic aberrations, except in the corners at 12mm |
| Good vignetting for this kind of zoom lens | Not a bright lens |
| Satisfactory control of distortion | |
| Compact | |
| Light-weight | |
Comparison
The Olympus and Panasonic DxOMark overall scores are identical, with very close individual metrics scores. But the Nikon 1 zoom is three points behind with a DxOMark score of 7 points, mostly due to two criteria: better resolution for both the Olympus and Panasonic lenses, but also a superior low-light sensor score for the Olympus PEN EPL2 camera. (Take a look at the sensor comparison: Olympus PEN EPL2 vs Nikon 1 V1.)
The advantages of the Olympus M.ZUIKO DIGITAL ED 12-50mm f/3.5-6.3 EZ:
Good management of vignetting.
Good management of distortion.
Tropicalized.
The advantages of the Panasonic LUMIX G X VARIO PZ 14-42mm / F3.5-5.6 ASPH. / POWER O.I.S.:
Better sharpness.
Brighter lens.
Better quality-to-price ratio.
More compact.
Lighter weight.
The advantages of the Nikon 1 NIKKOR VR 10-30mm f/3.5-5.6:
Good management of vignetting.
Better management of distortion.
Better management of chromatic aberrations.
Conclusion
The Olympus M.ZUIKO DIGITAL ED 12-50mm f3.5-6.3 EZ has the same optical quality as Panasonic LUMIX G X VARIO PZ 14-42mm / F3.5-5.6 ASPH. / POWER O.I.S., providing users of micro 4/3 cameras (with their smaller sensors) with a richer array of choices.
In addition to tropicalization and a motorized zoom ring for video, this latest Olympus lens shows good control of distortion and vignetting, making it a good choice for adventurous photographers. For other photographers… well, the very nice Panasonic kit lens gives pause: for $100 less, you get slightly better optical performance (especially in terms of resolution) and significantly better compactness. This said, if you prefer using classic focusing rings, you'll want the Olympus lens, since the Panasonic doesn't have them.
Results for the Olympus 12-50mm lens on the Olympus OM-D E-M5 will be available shortly. (See also this review of the Panasonic LUMIX G X VARIO PZ 14-42mm / F3.5-5.6 ASPH. / POWER O.I.S.)