Standard micro 4/3 lens reviews
Wednesday March 28 2012
Lens Review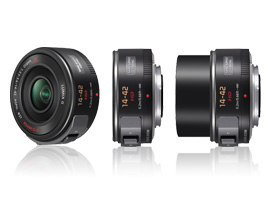 Panasonic LUMIX G X VARIO PZ 14-42mm / F3.5-5.6 ASPH
Enter the Panasonic LUMIX G X VARIO PZ 14-42mm / F3.5-5.6 ASPH. This very first micro 4/3 lens (with many others doubtless to follow very soon!) belongs to the new generation of lenses designed to respond intelligently to the problems posed by compactness:
The lens by itself has a length of only 26.8mm and a weight of just 95g — ideal for the general public.
To reduce the lens size, Panasonic modified its design philosophy by eliminating the zoom ring and replacing it with tiny levers that control zoom and focus. (In terms of ergonomics, photographers who are used to DSLR zooms will probably be disappointed.)
It remains to be seen if the optical quality of this oh-so-small zoom is similar to that of classical zoom lenses — something that DxOMark measurements will certainly ascertain.
Currently-available compatible cameras include the Panasonic GH2, GX1, and GH1, and also the Olympus PEN EPL2 (with other cameras to eventually arrive on the scene).
The DxOMark results
Complete test results are available here: Panasonic LUMIX G X VARIO PZ 14-42mm / F3.5-5.6 ASPH. / POWER O.I.S. mounted on a Panasonis Lumix DMC GH2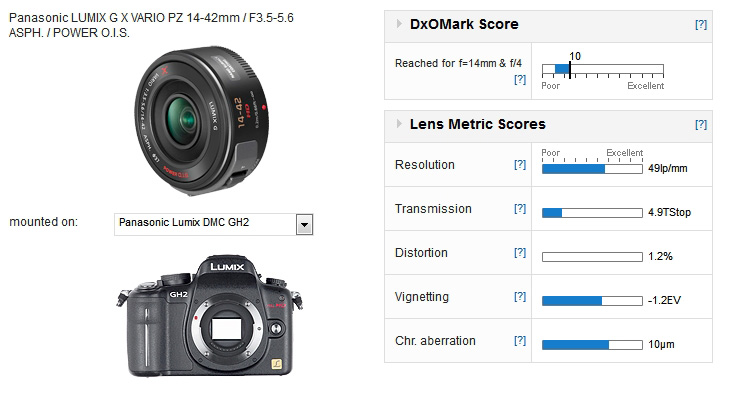 With a DxOMark overall score of just 10, this 14-42mm is far from any hope of climbing up on the podium with the best lenses on our website. However, its DxOMark score was impacted by a low-light use case that gives a real advantage to full-field sensors and bright lenses, so we honestly were not surprised by these results — after all, this is a kit lens for the general public, so we weren't expecting any miracles.
| | |
| --- | --- |
| Strong points | Weak points |
| Good sharpness, uniform starting at 24mm | Too-strong distortion at 14mm (3.5%) |
| Tolerable vignetting | Significant vignetting at 14mm from f/3.5 to f/5.6 (> 1 EV) |
| Tolerable chromatic aberrations | Not very bright |
| Compact | |
| Light-weight | |
The smallest kit lens contest
Since the Panasonic GF3 isn't available yet, we used the GH2 for our measurements, given that the characteristics of their respective sensors are quite close. (We expect that the results would have been similar had we tested this lens on a GF3.)
Comparison:Panasonic LUMIX G X VARIO PZ 14-42mm / F3.5-5.6 ASPH. / POWER O.I.S. mounted on a Panasonis Lumix DMC GH2 vs Nikon 1 NIKKOR VR 10-30mm f/3.5-5.6 mounted on a Nikon 1 V1
With a DxOMark overall score of 7, the 10-30mm is not as high-quality a lens as the Panasonic 14-42mm.
But the real point of interest in this comparison is that the Panasonic GH2 / Panasonic G X 14-42mm f3.5 combination surpasses the Nikon 1's low-light score. Two principal factors account for this: better lens resolution, yes, but also a better low-light sensor score for the Panasonic GH2 vs the Nikon 1 V1.
The strong points of the 10-30mm :
Better-controlled distortion
Less affected by vignetting
Fairly insignificant chromatic aberrations
The strong points of the 14-42mm:
Resolution sharper and more uniform across the field
Transmission: an average gain of ½ EV for the same aperture as the competition
More compact
Lighter
Less expensive
DxOMark's choice:
For those who have not yet invested in a lens and who would like to have something very small, versatile, and not super-expensive, the Panasonic seems to be a reasonable choice. We do wish, however, that the distortion for this model was better controlled at 14mm.
The Panasonic vs Nikon kit and Olympus kit lenses
Here are the technical comparison results for the 14-42mm on a Panasonic Lumix DMC GH2, of the 18-55mm on a Nikon D7000, and the 14-42mm on an Olympus E620:
Comparison:Panasonic LUMIX G X VARIO PZ 14-42mm / F3.5-5.6 ASPH. / POWER O.I.S. vs Nikon AF-S DX Zoom-Nikkor 18-55mm f/3.5-5.6G ED II vs Olympus ZUIKO DIGITAL ED 14-42mm F3.5-5.6
The DxOMark score here is frankly impressive: the little Panasonic kit lens does as well as the Nikon 18-55mm kit lens. (We note, however, that there were some disparities for some measured focals on the Panasonic results.)
The advantages of the Nikon kit zoom:
Brightest of the three lenses tested
Weak distortion (similar to that of the Panasonic)
The advantages of the Olympus kit zoom:
Weakest distortion of the three lenses tested
Negligeable chromatic aberrations
The advantages of the Panasonic kit zoom:
Resolution sharper and more uniform across the field
More compact
Lighter
Less expensive
Conclusion
To sum up, the Panasonic LUMIX G X VARIO PZ 14-42mm / F3.5-5.6 ASPH. / POWER O.I.S., mounted on a Panasonis Lumix DMC GH2, achieves scores equivalent to entry-level kit lenses mounted on APS-C-sensor cameras. Obtaining comparable quality with a camera/lens combination that is half the size is certainly not a bad result! All that remains is to see the results for the even smaller Panasonic GF3 or Olympus PEN EPM 1 in order to determine which has the best quality-to-bulkiness ratio. But in any case, this 14-42mm lens is a clear win for Panasonic!
(Please keep in mind that these tests and this review do not cover certain other important aspects of lens evaluation, such as the precision of the zoom's movement and focusing, the overall ergonomics of the system, etc.)