Tamron 150-600mm f5-6.3 Di VC USD Canon mount lens review: New contender
By Kevin Carter -
Wednesday February 12 2014
Lens Review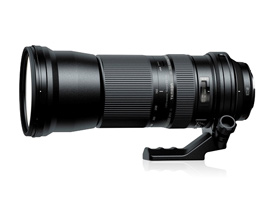 Tamron has released a new modestly priced, stabilized super-telephoto zoom for both full-frame and APS-C cameras, the SP 150-600mm f5-6.3 Di VC USD. How does this $1,100 model compare against the slightly shorter-range Sigma and Canon offerings?
Aimed at wildlife, bird and action photographers, the newly designed super-telephoto Tamron 150-600mm f5-6.3 Di VC USD zoom looks to be a promising update to the non-stabilized 200-500mm f5-6.3 Di LD [IF] (A08) model it replaces. As well as the longer range and built-in stabilization the new model also features an ultrasonic type AF motor and adds the firm's new eBAND (Extended Bandwidth & Angular Dependency) coating to their existing BBAR (Broad-Band Anti-Reflection) coatings to reduce flare and ghosting. The new model boasts a complex optical construction consisting of 20 elements in 13 groups including three LD (Low Dispersion) elements to reduce CA as well as a 9 blade circular aperture for softer transitions to out-of-focus areas.
Measuring 10.1 in (257.8mm) and weighing 68.8 oz (1,951g) the new model is just over 1-inch longer but around 60% heavier than its predecessor. The earlier iteration also focused to just 98.4 in (2.5m) whereas this lens has a minimum focus distance of 106.3 in (2.7m) although both are quoted as having a magnification ratio of 1:5. Priced at $1,069, the new lens is available in Canon mount only to begin with, though Nikon and Sony A mount versions will follow.
Further readings for the Tamron 150-600mm f5-6.3 Di VC USD Canon mount lens review: New contender
To provide photographers with a broader perspective about mobiles, lenses and cameras, here are links to articles, reviews, and analyses of photographic equipment produced by DxOMark, renown websites, magazines or blogs.
---
---
---
Comments
Added by

Rogier

| January 10 , 2015

Nikon Mount

Hello DXOMark

Is there any hope in testing this lens on Nikon any time soon.
Would be awesome to see the difference between mounted on Nikon and Canon.
thanks in advance.


Reply
---
EOS 40D

Is this lens compatible whith the Canon EOS 40D?


Reply
---
First replies for this comment
---
releas e150-600

Any idea when the 150-600 will be release for Nikon mounts. I have a sigma 150-600 here and like what it does for my D610 and d7100. Should I wait or keep what I have since I like it so much



Reply | Read all replies for this comment
First replies for this comment
---
Added by

chittu

| February 20 , 2014

Nikon?

<div id="linkdxomark">This a comment for <a href="http://www.dxomark.com/Lenses/Tamron/Tamron-SP-150-600mm-F-5-63-Di-VC-USD-Model-A011-Canon">this page on the website</a></div>Hope you are testing the Nikon mount, I am planing to get this but I want to see the sharpness test on D600/610 before I buy it. thanks


Reply | Read all replies for this comment
First replies for this comment
---
EOS 7D vs EOS 5D III

This test is very timely for me, as I have just received my copy of this lens, and I am about to leave on a trip that will include photographing wildlife. I am lucky enough to own both a 7D and a 5D III. I assumed I would bring the 7D to use with this lens, but the tests seem to show that would be the wrong choice.

For this question, assume the lens is at 600mm and f8, and the subject would nicely fill the frame (no additional cropping in post) on the 7D. Do these tests show that if I used the 5D III instead, and then cropped the image to be the same size as from the 7D, that the 5D III image would have more resolution and better detail?


Reply | Read all replies for this comment
First replies for this comment
---
Added by

Simen1

| February 13 , 2014

Bad sample?

APS-C scores are quite dissapointing. Are all tests done with a single lens? Im looking forward to see if Tamron 150-600 does better on other mounts.


Reply | Read all replies for this comment
First replies for this comment
---
Tamron's new 150-600mm Zoom

Considering Tamron's EISA successes over the past couple years, this new lens may be a very attractive alternative to other lenses of a similar zoom range. A test by DxOmark, at least MY gold standard for lens ratings would help me make an informed decision as to whether or not I should invest in it. It's a zoom range almost too good to be true, but the variable minimum aperture range seems to be a caution sign, as well as the price.
Thanks!
Robert


Reply | Read all replies for this comment
First replies for this comment
---
First replies for this comment
---