Tamron SP 90mm F2.8 Di MACRO 1:1 VC USD Canon review – An alternative macro lens choice?
By David Newton -
Tuesday January 22 2013
Lens Review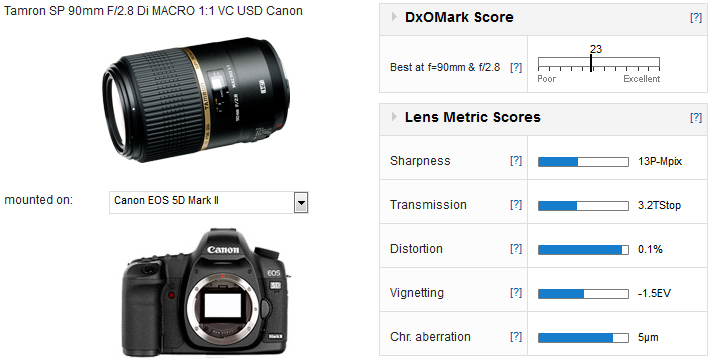 With a DxOMark score of 23, this new model actually falls behind its older sibling, the Tamron SP AF 90mm f/2.8 Di Macro, which scored 25. In terms of the P-Mpix score, mounted to an EOS 5D Mark II, it managed 13P-Mpix, relative to the nominal score of the camera being 21megapixels. While this may sound quite low, the sharpness is almost completely homogenous across the frame with hardly any fall-off all the way out to the edges, even when shooting at the maximum aperture.
Looking at the Chromatic Aberration scores, the lens performs very well with hardly any chromatic aberration that would be visible in final image. Again, this holds true at all apertures as well, so you should not expect to see much fringing around any high contrast edges – for example around the edges of hair on insects.
The distortion is also well controlled, showing no real barrel or pincushion distortion. Though with prime lenses such as this, it this is to be expected as it is easier to control this aspect of lens design when free of the compromises caused by a zoom lens.
The lens shading, or vignetting, is the only real area of concern on this lens, as when shooting wide open at f/2.8, there is up to 1.5EV difference between the centre and edge of the frame. Since macro lenses are often used wide open, this may be a concern, though as soon as the lens is stopped down the vignetting does improve and by f/5.6 it has disappeared completely.
Further readings for the Tamron SP 90mm F2.8 Di MACRO 1:1 VC USD Canon review – An alternative macro lens choice?
To provide photographers with a broader perspective about mobiles, lenses and cameras, here are links to articles, reviews, and analyses of photographic equipment produced by DxOMark, renown websites, magazines or blogs.
---
---